After Hours Redemption by Kianna Alexander is an entertaining second chance romance set within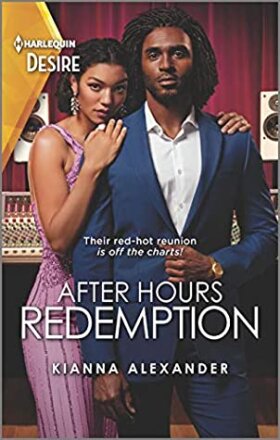 the music industry, and the first story in her 404 Sound series.
Eden Voss gave up her own aspirations to be a singer and became a songwriter instead, after a promising career start got nipped in the bud- by a man who put his career over her own. That was years ago and it's water under the bridge, until record executive Blaine Woodson approaches her with a songwriting job for a new artist he's hoping to help turn into a breakaway star.
In those early days Blaine was under a lot of pressure with his new record label, and he had to make some tough decisions, including dashing Eden's career hopes. While she's gone on to make a name for herself, he still has feelings for her, though he understands why she would turn down his job offer. But Eden has her own reasons for accepting this challenge, even if it means being in Blaine's orbit again. When one thing leads to another, it's not hard to succumb to their attraction for a secret fling. But has Blaine learned enough from their time apart to be worthy of a second chance with Eden?
I really enjoyed the setting of this story! The music industry is well described from the production side, with the pressure on Blaine to produce a winning album with a new star, and the delightful young woman Naiya who wants her songs to be meaningful and not just forgettable pop songs.
Eden lives with her cousin Ainsley and her nephew Cooper and the family closeness was lovely to see. They lost their mothers together in an accident and have supported each other ever since. Eden is a strong independent woman and Blaine has to work hard to regain her trust. At the beginning he seems somewhat oblivious to the hurt he caused Eden when their music arrangement (and relationship) went bust. It's not until later in the story, when it seems like he might be heading towards repeating his mistakes that he realizes how much he wants Eden to be part of his life. Along the pathway to their happy ending they share some sexy love scenes and heart to heart conversations. The result is a delightful romance with interesting and likable characters and a great musical setting. I'm excited to see where the series will go next!
Book Info:

Publication: Oct 01, 2020 | Harlequin | 404 Sound #1
Songwriter Eden Voss had the perfect man—sexy, charming, talented and hers. Until record executive Blaine Woodson broke her heart to save his fledging label. Now music's bad boy is back, begging for her songwriting skills in his studio…and her lovemaking skills after hours. Eden vows to keep things strictly business this time. But there is nothing professional about the heat still between them…