Today it is my pleasure to Welcome author
Nina Crespo
to HJ!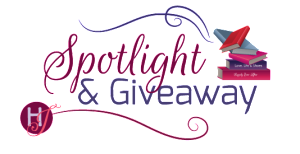 Hi Nina and welcome to HJ! We're so excited to chat with you about your new release, The Last Rule of Makeups!

Hi Everyone! It's so great to join you today.

Please summarize the book a la Twitter style for the readers here: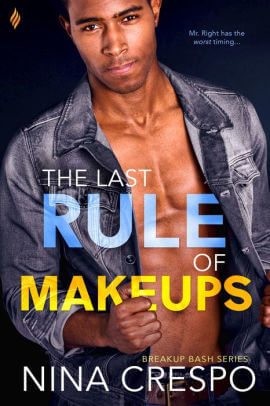 Cori has sworn off of relationships when the guy she always thought was "the one" shows back up in her life. What happens when Mr. Right as the worst timing?

Please share the opening lines of this book:
Corinne Ross removed the turquoise stiletto-heeled pumps from the box on the floor next to her chair in the shoe store. She slipped them on, and after fastening the straps around her ankles, she rose to her feet and sank into alluring, red- soled, four-inch-high perfection.

Fashion Therapy Friday.

It had the ability to turn nightmares into fairytales, tears into smiles, and shit into glitter-filled, sparkly rainbows. At least temporarily, and after her crazy work week, she needed a huge dose of happy.
Please share a few Fun facts about this book…
The Last Rule of Makeups has the same Chapter One scene as The First Rule of Hook-Ups and Rules of a Rebound but from Cori's perspective.
Parties celebrating breakups do happen.
Cori's ultimate career interest in the story was inspired by my love of Causebox. The items I receive in this subscription box always make me happy.
After I wrote the book, I interviewed David Michael at the passionatedj.com to do some fact checking.
There is a DJ Nina Crespo, but I'm not her.
What first attracts your Hero to the Heroine and vice versa?
Cori and Grey are reunited lovers. In the past and now, they just "get" each other. Also Grey appreciates what family means to Cori. She understands Grey's ambition when it comes to music.

Using just 5 words, how would you describe Hero and Heroine's love affair?
Sexy. Irresistible. Fun. Strong. Supportive.

The First Kiss…
Cori and Grey's "first" kiss in the book takes place at Club Escapade–
As her tongue slowly drifted over his, desire uncoiled. She let go, feeling as if she floated on waves of sound, rising higher, shedding worries, and releasing the hidden ache that had taken up residence in her heart…
Without revealing too much, what is your favorite scene in the book?
My favorite scene? That's a tough question. When Cori first sees Grey at Club Escapade was a fun scene to write.–
"Cori?"

The sound of a guy calling out her name caught her attention. Not spotting anyone she recognized, she kept going.

"Cori, hold up."

This time, the deep voice struck chords of familiarity. She turned around.

Streetlamps along with the headlights from passing cars illuminated him.

Dark jeans hugged his long legs. Smooth unruffled confidence emanated from his stride. The navy pullover he wore hugged broader shoulders, but he was still lean and muscular. His dark hair was close-cut now, and the sides were edged to perfection bringing out the angles in his brown face that was a gift for the eyes. But it was definitely Grey Latham, her ex-ex-boyfriend walking toward her.
If your book was optioned for a movie, what scene would be absolutely crucial to include?
In my opinion, the final scene of the book is critical. It completes the series journey for Alexa, Nat and Cori. I can share their final toast without it being too much of a spoiler.–
She raised her glass. "Here's to true love. The kind that lasts forever."
Readers should read this book …
-if you enjoy reunited lovers romance.
-if you want a sexy book escape.
-if you enjoyed Alexa and Rafe's story, The First Rule of Hook-Ups, Book 1 and Natalie and Rome's story, Rules of a Rebound, Book 2.
What are you currently working on? What other releases do you have planned?
I just released Her Sweet Temptation, Tillbridge Stables (Harlequin Romance), and I'm currently working on the third book in that small town sexy series. I'm also looking forward to dreaming up my next steamy romance story..
Thanks for blogging at HJ!
Giveaway:

Two winners. Their choice of a signed print copy of The First Rule of Hook-Ups, Book 1 or Rules of a Rebound, Book 2. US mailing addresses only.
To enter Giveaway: Please complete the Rafflecopter form and Post a comment to this Q:

What's your favorite song?
Excerpt from The Last Rule of Makeups:
"You're leaving?" She couldn't go home this early. Or maybe she was waiting for someone.

"No. I'm attending a private party wi—"

An animated group swarmed past.

She moved closer to him to get out of the way, and a protective reflex made him reach for her. His hands were almost to her waist before he caught himself. Her nearness and the light floral vanilla scent emanating from her raised familiarity and gut-tightening awareness.

As the group crowded toward the entrance, Cori took a step back. "I'm here with my girlfriends for a private event. I should go back inside." She pointed toward the entrance with a careless shrug. "They're probably wondering where I am."

She smiled, but something other than happiness was in her eyes. When they were together, she would wear new shoes to cheer herself up. She'd dye her hair an unconventional color when she really needed to express herself, especially if she was feeling frustrated. And she'd drink tequila. The hair was an obvious tip-off. He'd bet money the shoes were new and that she'd had at least one shot of tequila that night. Who or what had upset her? Or was he wrong about the signs? Years ago, he'd misread how she'd felt about their relationship. He'd thought Cori had been as committed as he was to what they'd shared. That's why he'd asked her to move with him to Austin.

It had all seemed perfect. She'd been set to graduate in a couple of months and had mentioned several times she'd wanted to explore living outside of Maryland or Virginia. He'd planned on going ahead of her to Texas, securing a place for them to live, and getting leads on a job for her. But a week after agreeing to the move, Cori had changed her mind, claiming they didn't want the same things in life and were moving in different directions. She'd accepted a job offer in Virginia and saw her future there, not in Texas with him. It had hurt to hear her say that, especially since he'd envisioned them being in Austin together. But he'd wanted the best for her. Rather than draw things out until he'd left in a couple of weeks, they'd made a clean break right then.

He was probably making the wrong conclusion again now. Cori had just told him her life was great. And that she had people waiting for her. So did he.

Grey reluctantly tipped his head toward the club entrance. "We should probably head inside."

"Yes. We should."

He and Cori walked to the shorter VIP and private party guest line. The large bouncer glanced at Cori's wristband and waved her in. But he didn't let Grey past the velvet rope or relax his stone-faced expression until he'd confirmed Grey was on the VIP list.

In the lobby, Cori looked left to Escapade West.

He glanced right to Escapade East. "Well, it was good seeing you." If he asked her for her number, would she give it to him? While he was in town, they could talk…catch up.

"You, too." She smiled. "Tell Damien I said 'hey."

A club remix of Eminem's "The Monster" reverberated into the lobby from Escapade East.

Recognition filled Cori's face and lit up her eyes. Damien playing that old song now had to be a sign.

Grey held out his hand to her. "Come on. We can't not dance to this."

"I don't know…I should find my friends."

His heart sank as she glanced to the corridor leading to Escapade West. But he couldn't let her walk away. Not yet. He gently took her hand. "Just one dance. Please."

Cori looked at him. Her hesitancy prompted him to coax her forward with a tug.

A small but genuine smile began curving up her mouth. Her one step forward led to a second and a third. "Okay, one dance…and then I'm out."

A chuckle of relief opened up in his chest. "Come on, then."

As he led her through the doors of Escapade East, the treble, bass, and percussion in the music infused his blood and hummed through his veins.

Damien was in the glass booth high up on the front wall, freestyling behind the deck, completely in the zone. He was reading the crowd perfectly. His mashup of the song along with a more current one lured even more people from their tables and the four neon-lit bars along the back and side walls.

As Grey and Cori walked to the dance floor, the crowd pushed them closer, and her breasts pillowed against his arm. The accidental picture on her phone earlier entered his mind, along with his recollection of what her breasts looked like… Firm and lush, they'd filled his hands. Barely there brushes over her hard nipples with his palms or his mouth had easily aroused her.

An image of Cori with a glow of pure ecstasy highlighting her flawless light brown skin flashed in.
No. He had to wipe all of that from his mind. This was just a dance.

They found an open spot on the floor.

Cori immediately fell into the beat, and he did, too. Her purse, hanging from her left shoulder, restricted the movement of her arm but not the rest of her.

He'd never had to explain the power of music to Cori. She innately understood what it meant to him when he'd stood behind the deck dropping deadly beats that raised hands and screams for more from a crowd. But watching her dance, the way she'd smiled, laughed, and let go equaled that rush. Something he hadn't felt in a while…and thought he never would again.

The emptiness that had shadowed him for months crept in, but as Damien dropped in some loops and sound effects, blending them into the next music track, the laughter bubbling out of Cori chased it away. She whooped with the crowd and raised her free hand in the air.

As he danced toward her, she spun and faced away from him.

Damn, she still had curves for days. That ass of hers was meant to be palmed, caressed…bitten.

Grey's heart rate kicked up, almost matching the beat of the music.

Back in the day, he would have molded his hands to her hips and brought her back against him, but grinding up on her now, as if no time had passed between them, would have been a total dick move. Still, he closed the distance, letting her joy, her curves, and temptation torture him. Being near Cori had always been too damn hard to resist.
Excerpts. © Reprinted by permission. All rights reserved.


Book Info:
Cori Ross is thanking her lucky stars. Sure, her long-time boyfriend just dumped her, but that's a good thing. In her rush to find Mr. Right, she realizes she almost settled for Mr. Just Okay. And that's definitely not okay. So, tonight, she's out with her friends at the Breakup Bash—a private party for women celebrating their break-ups—and she's actually celebrating. Still, it was too close a call. So she makes a deal with herself—no guys for six months.
Unfortunately, just as she's leaving the club, she runs into her old boyfriend, Grey Latham—the guy she'd always wanted to be Mr. Right. Great. What a time to swear off guys. Maybe she needs to change the deal—no relationships for six months. There's no reason why she can't have a fling, right? Because Grey still holds the title of the best sex she's ever had.
There's no way this could go wrong. Grey is on his way to international DJ fame—he's only in town for a short time, and then he'll be gone again. No harm in burning up the sheets while it lasts.
Too bad neither expected what happened next…
Book Links: Amazon | B&N | iTunes | Goodreads |


Meet the Author:
Nina Crespo lives in Florida where she indulges in her favorite passions — the beach, a good glass of wine, date night with her own real-life hero and dancing.
Her lifelong addiction to romance began in her teens while on a "borrowing spree" in her older sister's bedroom where she discovered her first romance novel.
Let Nina's sensual contemporary stories and steamy paranormal tales feed your own addiction for love, romance, and happily ever after.
Stay connected with Nina on Instagram, Facebooks, Twitter or through her newsletter.
Website | Facebook | Twitter | | Instagram |