In Happily Letter After by Vi Keeland & Penelope Ward, Sadie has been writing articles for a local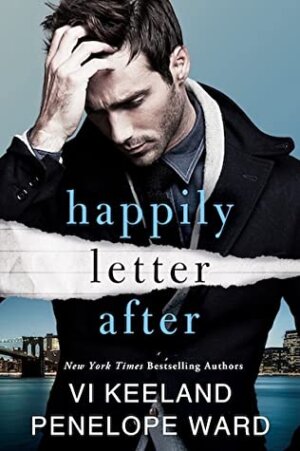 NYC magazine for several years. And while she's had fun with her dating column, it's the holiday column where people write in to Santa that she truly loves. This year Christmas comes early when ten-year-old Birdie Maxwell sends a letter with some requests that make Sadie smile, even as she sheds a tear or two. Because the little girl's life sounds a lot like her own at that age.
'This moment was one I would never forget. Even if I never saw Birdie again, at least I knew I was able to make her feel a little less alone in this world.'
Knowing she has to help Birdie out, Sadie makes a few of her wishes come true thinking that would be the end of it. But she slowly becomes wrapped up in the Maxwell's lives in more ways than she can count. And when Sadie has an awkward first meeting with Sebastian, Birdie's widower father, she knows her life will never be the same again. Something he can agree upon. Because it's been a long time since he's felt so comfortable around a woman. And Sebastian certainly hasn't felt such strong attraction since his late wife–something that unnerves him a bit. Before long, though, Sadie becomes a fixture in his and Birdie's lives. And Sebastian knows he's the lucky one for having met the beautiful journalist just when he needed her most.
'It had been a long time since I met a woman who put her heart out there for the world to see. Not to mention, there were a lot of other parts of her worth seeing.'
A sexy, single dad with the weight of the world on his shoulders. A modern journalist with hopes of a forever kind of love. An adorable ten-year-old who set off a series of events no one could anticipate. And one (seriously) mischievous dog. Happily Letter After wrapped me up in *all* the feels and warmed me through and through.
"I don't know if it's fate or a series of crazy coincidences that brought us together. But whatever led me to you isn't as important as what will keep you here. I love you with all my heart, Sadie."
I can't put into words how much fun I had reading Vi Keeland and Penelope Ward's newest standalone contemporary romance. Like I anticipated, Happily Letter After had a sexy edge to it once Sadie and Sebastian finally gave in to their obvious attraction. It was his daughter Birdie and the way her life sort of mirrored Sadie's as a child that surprised me and made me sigh with the connection they shared and the camaraderie that built between them.
Without giving away the entertaining twists Keeland and Ward gave us, I can say that this was one truly unique and heartfelt story. I think readers will be able to relate to all the characters, really. Sadie and Sebastian were down to earth and were kind, compassionate people, but both were a little lost. She was tired of the dating scene and longed for something more substantial. And he was a widower who was lonely, trying to overcome the guilt of slowly moving forward in his life after losing his wife about four years prior.
There were some touching scenes where Sebastian and Sadie poured out their hearts to one another that will bring readers some tears. Ward and Keeland created a wonderful pull between the couple, one that started off a bit more like friendship and then jumped over the edge into full-blown romance. Sigh…
And then there was Birdie. I couldn't have adored her more. Smart, caring, and with a little smidge of a devious side, she was the catalyst for just about everything that happened to the trio. Her letters to Santa, aka Sadie, were comical but also poignant. And Birdie was also responsible in a roundabout way for Sebastian's meet cute with Sadie. That was where Marmaduke the naughty dog came into the story, adding some hilarity and a way for them all to have to band together. I'm still chuckling over his penchant for stuffed animals–and diamonds!
There's something utterly magical about a book written by Vi Keeland and Penelope Ward and Happily Letter After was about as charming as it could be. Sebastian, Sadie, and Birdie grabbed my heart and wouldn't let go until their whirlwind, kismet-touched journey was well on its way to a HEA.
Book Info:

Publication: October 20th 2020 | Montlake |
From New York Times bestselling authors Vi Keeland and Penelope Ward comes a love story about taking chances, and the surprises that come with them.
My love story all started with a letter.
Only it wasn't from the man I'd eventually fall in love with. It was from his daughter. A sweet little girl named Birdie Maxwell who'd written to the magazine that I worked for.
You see, once a year, my employer fulfilled a few wishes for readers. Only that column didn't start up again for months.
So I fulfilled some of her wishes myself. It was harmless…so I thought. Until one day I took things too far.
While anonymously granting yet another of Birdie's wishes, I got a look at her father. Her devastatingly handsome, single dad father.
I should have stopped playing fairy godmother then. I should have left well enough alone. But I just couldn't help myself. I had a connection to this girl. One that had me acting irrationally.
Like showing up on their doorstep.