The Redoby Max Monroe: After having his heart smashed on the day of his wedding Remington Winslow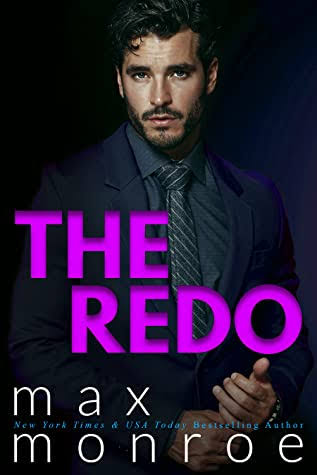 decided keep his heart closed off from ever having to feel that kind of heart ache ever again, instead opting to live his happiness through those of his siblings and for the past ten years. This has been working out just fine for Remy that is until he gets stuck in a lift with his high school sweetheart Maria during a city wide blackout.
If this blast from the past wasn't a shock enough Remy soon learns that Maria has had a whole lot going on in her life, starting with the baby that she is expecting…all on her own. After having his heart shut of for years it would seem that fate has other plans for Remy when he is once again thrown into a stalled lift with Maria only this time she is in labour!
Being the nurturer that he is it doesn't take any thought from his side before Remy is volunteering his services to give Maria a hand when ever she feels overwhelmed by a new born and just needs a break to breathe. But somewhere between playing house with Maria and Izzy all those old feelings begin to return and Remy is forced to question if he is ready to open up his heart again or has Maria and baby Iz already done it for him…
This book was literally EVERYTHING that my romance loving heart could have ever asked for!! I think it is safe to say I would read just about anything written by these two talented ladies but really they have out done themselves with The Redo, this book has a bit of everything and one heck of a perfect ending to tie together one of their best series EVER!!
"And young Remy Winslow was obsessed with Maria Baros. Consumed by her. In love with her. At one point in my life, she was everything to me. All of that mixed in with the now makes it hard to distinguish my current feelings."
We have come to know the Winslow family pretty well, right from the first time that we are introduced to them in Winnie's book and I think its pretty safe to say that out of all of the Winslow siblings Remy deserved a happily ever after the most and Max and Monroe sure did keep us waiting for his turn, but boy was it worth it! Remy was such a sweet heart and getting to see him finally find his happiness was one of the most heartwarming reads ever, I just loved the ease in which he fell into the role of protector, nurturer and dad with Maria and Izzy. I really liked the way in which Max Monroe worked the entire Chloe plot into the entire story, this also added a really fun twist to the entire story and one heck of a mic drop at the end of the book.
Good gosh did Maria have a hard few months and my heart just broke for her, its no joke to have your entire family just vanish all in one fatal moment and then to be left to raise a baby that you had not planned on having. For all her reluctance to step into motherhood Maria made a really wonderful mother for baby Izzy. I just loved the ease in which Maria and Remy fell into a rhythm and just connected forming their own little family. Their chemistry was pretty cute with a nice dose of underlining steam. I just loved getting to see both of them lean on each other and find what they had always been missing.
The secondary characters in this book have to hands down be the best of all time, not only do we get to see all of our old favourites but Max Monroe give us the perfect happy ending for each of these couples tying up on of their best series ever. The Winslow clan was such a treat! I loved the over the top, full of life and love vibe that came with being around them. But mostly I just loved the way they welcomed Maria and Izzy into their family without even questioning how Remy plans on playing the entire thing. Also getting to see the Winslow boys group chat was just pure comic gold. Add in the fact that we got loads of Thatcher Kelly goodness and this book had me laughing non stop!
Now can we just take a moment to talk about Chloe our kooky psychic, I just loved that this time round we got to see Remy interacting with the lady that changed all of their lives in the best way possible. I just loved that for all these years Remy and Chloe have been friends and in contact without anyone in the family even knowing, also I just loved their text exchanges with Chloe giving Rem subtle readings without him even asking. The ending was pure perfection and in true Chloe style she leave with one heck of a mic drop!
The Redo was the perfect combination of swoony sweet second chance romance, hilarious meddling family and one adorable baby. This book is a definite must read!
Book Info:

Publication: July 17th 2022 | Pub: Max Monroe LLC | Winslow Brothers #4
Put a finger down if you've ever been a single woman who got stuck in a New York City elevator in the middle of a summer blackout with your former high school sweetheart—whom you haven't seen in years—while pregnant with a baby that isn't biologically yours. And you can't believe how handsome that blast from your past is, so you unwittingly flirt with him a little even though your life is so crazy complicated you're barely keeping your head above water, but everything about him makes you think you could totally still be in love with him.
*puts a finger down*
What? Just me?
Needless to say, my current status is thorny. And no, I didn't miss how close that word is to another one.
Even though he's the epitome of tall, dark, and incredibly handsome, Remington Winslow has been a single bachelor for most of his life. It's clichéd and basic—until you consider the fact that once upon a terrible time, he got left at the altar.
He doesn't do relationships. He definitely doesn't fall in love.
And I'm just trying to survive a tangled web of unexpected motherhood and running one of the top real estate firms in the city that never sleeps.
He's the jaded guy who doesn't want to settle down, and I'm the career-focused woman with more baggage than a 747 can hold.
We're just two friends who used to be in love.
Now, if someone would tell my hormones I'm not a teenager anymore, I'd be set.