In After the Dark (Killer Instinct #1) by Cynthia Eden, Samantha Dark has always been able to pick people apart and understand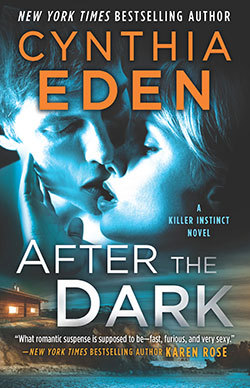 what makes them tick. So becoming a profiler in the Violent Crimes Division of the FBI was a perfect fit. Until it turned out that a serial killer, the Sorority Slasher, was one of her longtime friends and her ex-lover. Samantha's profile was completely accurate, but she was too close to the killer to figure out who it was until it was too late and he got away. The backlash unfortunately ends her FBI career, sending her home to Fairhope, Alabama to figure out what's next.
'She said his name as if he were a stranger, and right then, he was. Not the man she knew. Not her ex-lover. Not her friend. He was a respected professional… He charmed his way past everyone's guard.
He was…a killer.'
FBI agent Blake Gamble misses his partner Samantha, who was the best profiler he's ever met. But if he's being honest, he also admits that he just misses *her*. So when a new murder fitting the Sorority Slasher's MO comes to the FBI's attention, Blake heads to Alabama to try to enlist Samantha's help. What he doesn't realize is that the killer is already homing in on her and is actively trying to draw her out as a target. Blake will put himself in the line of fire before he lets Samantha get hurt. But with their every turn, it seems the killer is at least one step ahead of them. It will take all of his resources as an agent and his strength and knowledge as former military to protect the woman he loves and ensure they both make it out alive.
He had the woman of his damn dreams in his arms, a killer waiting, but he also had hope. Because he had her. "Something you need to know, too…" he muttered against her mouth. "You fucking own my heart."
He felt the surprise rock through her.
What a fantastic start to Cynthia Eden's new Killer Instinct series. After the Dark was a high octane, seriously dark and twisted romantic suspense that was absolutely thrilling and everything I hoped it would be.
'Once you knew that monsters lived in plain sight, it was pretty hard to trust anyone.'
I've read Cynthia Eden's paranormals before and loved her writing voice but I'm new to her romantic suspense. So I wasn't quite sure what to expect. I should've known I didn't need to worry because boy didn't she come through in a big way with this latest endeavor. I'm not kidding when I say that I couldn't put this book down. It wasn't so much trying to figure out who the killer or killers were as that gets outlined in the first third or so of the story. Nope, it was figuring out how everything fit together, why things were happening the way they were, and how in heck it would all be resolved without everyone being killed off.
Now this was pretty gritty and gory in places so some readers may be put off. I mean, the main characters were in the FBI Violent Crimes Division so you know it's going to get intense and graphic. But I thought Cynthia Eden did such a wonderful job getting into her character's heads–we get multiple POVs–and the whole psychological aspect grabbed my attention right away.
Samantha and Blake were the main focus of the story and I truly liked them both. They had their secrets, with questions about their individual pasts surfacing here and there, but I loved their relationship. They would definitely do anything to protect each other. And not just because they had been FBI partners. But Blake and Samantha's physical attraction was also a weakness, in that they couldn't always see the full picture of what was happening around them and how their connection could be used against them. (Although I still cheered them on as a couple and loved the HFN ending.)
Note: I'm not sure if it will be in final edition, but my copy of After the Dark also included the prequel novella The Gathering Dusk, which I would suggest reading first if possible. It sets the stage for this full-length book and introduces us to the dynamic between Samantha, Blake, their boss Justin Bass, and Cameron.
A riveting story that will have you second guessing yourself and waiting with baited breath for the conclusion, After the Dark is sure to be a winner with Romantic Suspense fans. Highly recommended!
Book Info:

Publication: March 28th 2017 | HQN Books | Killer Instinct #1
In New York Times bestselling author Cynthia Eden's gripping new series, a disgraced FBI profiler must save her reputation by stopping a sadistic killer she knows all too well.
Former FBI agent Samantha Dark was one of the most respected profilers in the bureau, an expert on the twisted minds and dark hearts of the most depraved criminals. But when her own former lover turned out to be the serial killer she was hunting, Samantha's career was destroyed. Blamed for the FBI's failure on the complex case, Samantha fled Washington, DC, for the quiet anonymity of Alabama.
Now an all-too-familiar killer is hunting once again. She can catch the sadistic assassin, but that means putting her trust in her former partner, Blake Gamble. Ex-military, Blake is tough, protective, precise. With her entire life on the brink, she knows he wants her back in the FBI…and possibly more.
But someone else wants her, too. A threat is waiting in the dark, a killer who has set his sights on the ultimate trophy victim—Samantha.