His Last Defense by Karen Rock This second chance romance is an action packed, sexy adventure! High school sweethearts Dylan Holt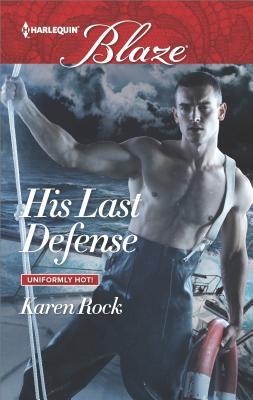 and Nolee Arnauyq went their separate ways when they broke up over a misunderstanding that she never bothered to correct, fearing that it was only a matter of time before Dylan would move on from her and their small community in Kodiak, Alaska anyway. Nine years later, she's the captain of a crab fishing boat and Dylan's a rescuer for the coast guard. A short term assignment back home sees him encountering Nolee again when he ends up rescuing her and her crew from a doomed ship. When she finds another boat to captain, Dylan's concern for her safety has him signing on to help her with a dangerous and possibly futile mission. In the short time he's home it's easy to fall into old habits, and the attraction between them is as strong as ever. But can get they forgive each other for past mistakes and find a way to make a new future together?
If you've ever watched some of the fishing shows on the Discovery channel, this story very much has that feeling about it, with the cold and unforgiving Bering Sea off the coast of Alaska being the dangerous and unpredictable setting for this adventurous romance. The action starts from the first page with Nolee and her crew aboard their doomed vessel and doesn't let up until the very end. The author does an excellent job of setting the scene and keeping the reader on their toes!
Nolee is an ethnic Alutiiq, an Alaskan coastal people, and their customs and beliefs are brought to light in this story. Add to that her occupation as a rookie fishing captain, and you have a unique female heroine who is strong, courageous, and willing to take risks. But the safety of her crew is her topmost priority and it shows in the decisions she makes. I really liked her character and her drive to succeed.
Dylan had a falling out with his family over his desire to work for the coast guard and not join their wilderness expedition company as an adult. His father treated him harshly as a child, and he's been estranged from his family since he left home the first time. He's happy with his career choice now, but still fondly remembers the time spent learning the ropes of a fishing vessel with Nolee when they were younger. After rescuing her once, he isn't about to let her get herself into another dangerous situation, not if he can be there to help her. He respects Nolee as a captain and as a woman and he comes across as a brave and dedicated man.
Dylan and Nolee's relationship is complicated by a past misunderstanding that doesn't get resolved until later in the story. It doesn't stop them from indulging in a no strings attached fling where they try to convince themselves that they won't let their emotions get involved. The result is some sexy scenes between them, and the realization that when Dylan's time in Kodiak is up and he has to go back stateside, it won't be so easy to let go of each other a second time. They both played a part in their original break up, and are adult enough to acknowledge it now.
Family relationships play a key part in the drama of the story, alongside the intense action aboard ship. This sexy second chance romance comes complete with a satisfying happy ending and its unique setting and characters make for a story that stands out in a sea of contemporary romances.

Book Info:

Publication: Mar 21, 2017 | Harlequin Blaze |
Years ago, Coast Guard rescue swimmer Dylan Holt left Kodiak, Alaska, with his heart in pieces. He thought Nolee Arnauyq and her mouthwatering curves were behind him–until he's sent to rescue the crew of a capsizing boat…including Nolee. And Dylan is definitely not ready for the too-familiar way his body aches at seeing her again.
Nolee's always gone after what she wanted, and to hell with the risks. Now she's a rookie ship captain taking on the deadly waters of the Bering Sea. But out on these treacherous waters, there's no way to avoid the sizzling sexual tension between them–or the dangerous pull of emotions that could leave both their hearts lost at sea…