Ain't She Sweet by Marie Force: Charley is smart, independent, loyal,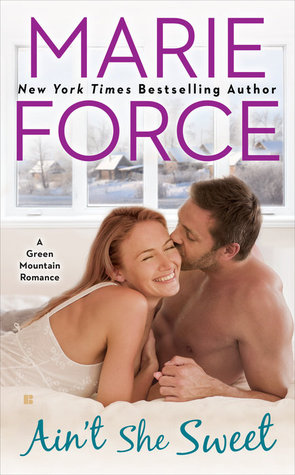 generous, and prickly. She's been burned by love before, so she's determined that love and commitment aren't for her. Her latest challenge is to run a marathon, but the infuriating Tyler is also a member of the local running club. She needs to train, but she rethinks her goal since Tyler is the one man who gets under her skin.
Tyler is smart, sexy, persistent, and a really good guy. He's fallen hard for Charley and he's asked her out many times over the years, only to be shot down each and every time. He sees beyond her prickly exterior and wants to find the woman underneath the armor. He's determined to wear her down, and makes the most of an opportunity when Charley is injured while running together.
Charley doesn't understand at all what Tyler sees in her. She's lost count of the number of times he's asked her out, but she can't decline when he so generously offers to take care of her until she's back on her feet from her injury. With Charley under his roof, they get an opportunity to know each other better.
"It wouldn't be any fun to run with the group without you glaring at me."
"I never glared at you."
"Um, yeah, you did. And P.S., you're cute when you glare."
"Well, that's disappointing. I was going for intimidating, not cute."
Tyler is determined to show Charley he is the good guy he comes across as. He wants to earn her trust and refuses to take advantage of her while she's injured. Tyler isn't her usual type, but she's not sure she can continue to resist him. They have great chemistry, but Charley is adamant that love and relationships aren't for her. With Charley's injury healing, Tyler only has so much time to convince her that they are real and worth the risk.
"You sound disappointed."
"I'm not…I'm not sure what I am. This is a good thing, right? That you're not hyperventilating?"
"I've heard hyperventilation isn't good for one's health, so yes, it's a good thing that I'm not hyperventilating."
Ain't She Sweet is an engaging, fun, and sexy small town romance that pulled me in from the first chapter. Marie Force created a lovable hero in Tyler who is well matched by the wary Charley. Ms. Force included great secondary characters from the Green Mountain series. Fans of Susan Elizabeth Phillips, Kristan Higgins, and Beth Ciotta will enjoy Ain't She Sweet.
Book Info:

Publication: April 26th 2016 | Berkley | Green Mountain #6
The latest Green Mountain Romance from the The New York Times bestselling author of It's Only Love.
Charlotte "Charley" Abbott has gone out with every guy under thirty-five in Butler, Vermont—except for one. Tyler Westcott's attempts to date her may be determined, and frequent, but Charley can't stand how he acts like he knows her better than she knows herself. So when Tyler turns up at the running club Charley joined to train for a marathon, she's almost ready to quit before she even gets started.
Tyler knows that behind Charley's prickly personality and dismissive attitude is a sweet woman he wants in his life. And when Charley suffers an injury while training, Tyler is ready to prove that the perfect man for her has been right there all along…