In Castle in the Sand by Jeannie Moon, Tony, Crown Prince of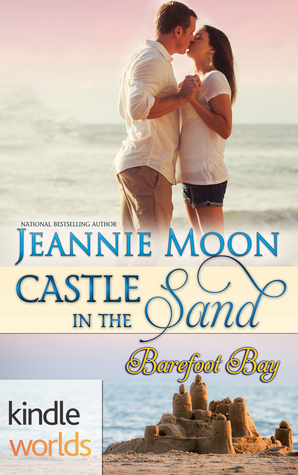 Marinborough has always been the good son. With a military background and now a trade representative, he struggles to find a balance between his royal life and a 'normal' life. Expectations as a royalty are high, especially from his father, and when a scandal breaks out, Tony takes the time to lie low. This takes him to Mimosa Key, straight back to the woman whose heart he broke 3 years ago…also his best friends sister.
Neither of them have gotten over the other, and Tony has had regrets ever since. An arranged marriage is what was expected of him, but it's not what he wants. He still wants Josie…but Josie is still angry and hurt. Spending time together, slowly the wounds start to heal…but can they ever have more than friendship? Josie isn't sure she can take the devastating heart break again. Tony gave up love with Josie before for his family and royal duties. Knowing what they had and lost, will this time be any different?
I really enjoyed this romance! It has a touch of a fairy tale to it, but is also very realistic. Tony may be royalty, but he was a solid hero, believable, and very likeable. I felt for him and the conflicts he was facing, the love he was scared of losing, and the family he didn't want to disappoint. I liked how he didn't push Josie, but he didn't give up either. I liked Josie as the heroine. She's still hurting, but she's doing her best and moving on. There is tension, conflict, and heat in this fast paced romance that brings up the question of what is more important? Love or duty? Tony doesn't want to live with regrets and unhappiness, but is there a middle ground? Or will it have to be one or the other? I couldn't wait to see how this plot evolved and if indeed love knows no boundaries.
Jeannie develops the characters well in this book and I liked how the history between Josie and Tony, and Tony and his family, unfolded as the story progressed.
Castle in the Sand is well paced and the story fits with the length of the book. I would love to see Josie and Tony again! I'd recommend Castle in the Sand by Jeannie Moon to any romance reader.
Book Info:

Publication: April 14th 2016 | Kindle Worlds | A Barefoot Bay Kindle World Romance
Josie DeMarco moved to Mimosa Key three years ago to escape the scandalous heartbreak that destroyed her life. She has a job and friends she loves on the idyllic island off the coast of Florida, but her world is turned upside down when Tony Granville seeks her help to escape the relentless paparazzi stalking him. As Prince Anton Edward, heir to the throne of a small European nation, Tony can't lead a normal life with the responsibilities of his title, and the constant scrutiny of his father, King Edward, hanging over him. But when Tony is back with Josie, the only woman he's ever loved, he realizes he's willing to give up his crown to be with her. What he doesn't know is if she would give up the life she's made for herself to be with him.
Castle in the Sand is set in Roxanne St. Claire's Barefoot Bay Kindle World but can be read as a standalone