Ain't She Sweet? by Susan Elizabeth Phillips: Sugar Beth Carey is the most appalling heroine ever. Don't miss understand, that is a sign of astonishing character development – I actually felt true hatred toward her. I cheered alongside Winnie and the Seawillows each time Sugar was put in her place. The author never once let Sugar's personality waver she remained the proud, uptight, bitch she always was, even during her weakest moments.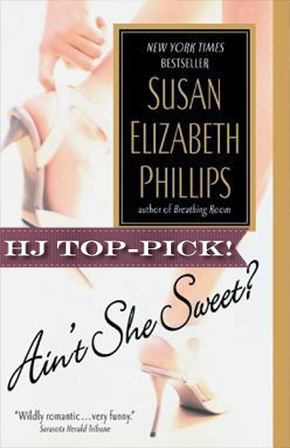 Colin is not your classic hero; he is more of an anti-hero. In the beginning of the story Colin illustrates characteristics unbecoming of conventional hero; in fact, he displayed qualities that you would expect from the villain of the story such as seeking only to smooth his wounded pride. While he seems to enjoy exacting his revenge against Sugar Beth, his character never truly joins the dark side, becoming the antagonist.
Colin and Sugar are incredible characters. They made me feel/express real emotion. This author designed characters that although VERY flawed I was able to appreciate and respect by the end of the story.
The secondary characters played pivotal roles. Each was thoroughly developed to contribute to the overall story. I most enjoyed the Tallulah…I would love to read about her love affair with the artist Lincoln Ash.
This romance had that old-fashion feel. I commend Susan Elizabeth Phillips on reminding me that there are many types of protagonists and that love can develop in the most unexpected places.
Book Info:

January 25th 2005 by Avon (first published 2004)
Sugar Beth Carey's come back to Parrish, Mississippi, and she'sbrought her reputation for wreaking havoc with her. She's broke,desperate, and too proud to show it, even with her old enemieslining up for a chance to get even. Her former girlfriends havetheir eyebrow pencils sharpened into lethal points. Winnie Davis,her longtime rival, is fully armed with the money, power, andprestige that had once been Sugar Beth's. But worst of all isColin Byrne, the man whose career Sugar Beth had destroyed — and not exactly accidentally.
Now Colin's a famous novelist living in Sugar Beth's old mansion,and this modern day dark prince is using his writer's imaginationto figure out how to bring the town's beautiful former princessto her knees. But despite her sassy mouth, feisty spirit, andhardheaded ways, Sugar Beth's no longer the spoiled rich girlthey all remember. No, now she's a woman to be reckoned with …and a great big reckonin' is about to happen, not least of allfor one dark prince who might — just might — be thinking aboutfalling in love with the wickedest girl in town.
Ain't She Sweet? A funny, heartwarming, oh-so-spicy story of love, friendship, and the possibility of happily-ever-after.