All Grown Up by Vi Keeland: Valentina is adjusting to life as a divorcee. She's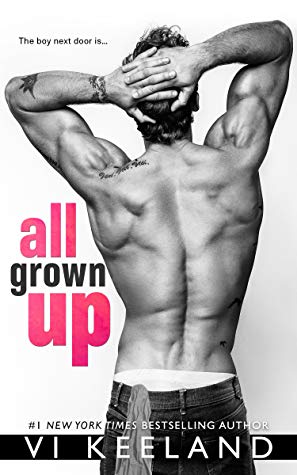 convinced that she's not ready to get back out there and date anyone, despite her best friend Eve's insistence. Instead, she is looking forward to starting a new career and getting to do all the things her ex wouldn't do. She's also experiencing life on her own for the first time with her son off at college.
Ford is running the family business and enjoying the single life. He's not looking for a relationship. He's taken on a lot of responsibilities due to circumstances beyond his control, so he is really mature for his age. He's sexy, smart, funny, loyal, and an absolute catch.
Val very much wants to delay jumping into the dating pool, but Eve has other ideas. But thanks to Eve, Val ends up finding Ford on a dating site. They immediately hit it off and before long Val is looking forward to the latest message. It's low key and they make each other laugh, but things get complicated when they finally meet and realize they know each other.
I shook my head. "I think you're right."
"So you'll come inside?"
"No…" I laughed. "I meant you shouldn't have told me, because now I'm afraid you might be a little crazy."
"We're all a little crazy, Val. What fun would it be if we only filled our life with normal things?"
Val is very much concerned with what others think; she's convinced that between being summer house neighbors and their age difference a relationship is out of the question. Ford is charming, persistent, and patient and sets out to show her just how wrong she is. They have a really strong connection, both in terms of chemistry and circumstances.
"That's…that's crazy."
"Why?"
"Because…" She trailed off, unable to come up with a reason.
I smirked. "Good argument."
She squinted at me. "You don't have to be an ass."
Sexy and funny, All Grown Up has it all and makes for a great beach read. Vi Keeland crafted an entertaining opposites attract, age difference romance with banter, heat, humor, friendship, and surprises. Ms. Keeland developed a delightful cast, especially Eve and Mrs. P, with great dialogue. Fans of Penelope Ward and Helena Hunting will enjoy All Grown Up.
Book Info:

Publication: July 8th 2019 | Pub: Vi Keeland |
A new, sexy standalone from #1 New York Times Bestseller, Vi Keeland.
When I first encountered Ford Donovan, I had no idea who he was…well, other than the obvious. Young, gorgeous, successful, smart. Did I mention young? If I did, it bears repeating. Ford Donovan was too young for me.
Let's back up to how it all started. My best friend decided I needed to start dating again. So, without my knowledge, she set up a profile for me on a popular dating site—one that invited men ages twenty-one to twenty-seven to apply for a date. Those nicknamed Cunnilingus King were told they'd go straight to the top for consideration. The profile wasn't supposed to go live. Another point that bears repeating—it wasn't supposed to.
Nevertheless, that's how I met Ford, and we started messaging. He made me laugh; yet I was adamant that because of his age, we could only be friends. But after weeks of wearing me down, I finally agreed to one date only—my first after twenty years of being with my high school sweetheart. I knew it couldn't last, but I was curious about him.
Though, you know what they say…curiosity kills the cat.
My legs wobbled walking into the restaurant.
Ford was seated at the bar. When he turned around, he took my breath away.
His sexy smile nearly melted my panties.
But…he looked so familiar.
As I got closer I realized why.
He was the son of the neighbor at our family's summer home.
The boy next door.
Only now…he was all man.
I hadn't seen him in years.
I left the restaurant and planned to put the entire crazy thing behind me.
Which I did. Until summer came.
And guess who decided to use his family's summer home this year?