His Shock Marriage in Greece by Jane Porter is a sensual marriage of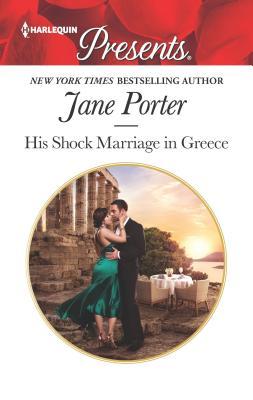 convenience romance and the third story in the multi-authored Passion in Paradise series.
Kassiani Dukas never thought she'd be stuck in a marriage of convenience. But that's exactly what happens to her when her sister, promised in marriage to Damen Alexopoulos to merge the two families vast Greek shipping companies, hightails off before the wedding leaving Kass to take her place. The Dukas family is in debt and they need Damen's money – money which will only come with a marriage. So Kass is willing to do what needs to be done, for better or for worse.
Kass is nothing like her sister. She's not a social butterfly, she dislikes crowds, she'd rather use her brains to figure out business problems than spend time shopping for clothes and shoes or putting up instagram photos. Physically she's also got a more curvy figure than her model-like sister. But she's made vows to Damen and she's determined to be a partner in their marriage. As for Damen, he's furious at the switch. At first he thinks of just going straight to annul their marriage but when Kass seduces him on their wedding night with a mixture of innocence and determination, he admits to himself that he's intrigued. Maybe they can salvage something of this disaster. Making swift changes in plan, he comes up with a honeymoon more suited to Kass than his original intended bride. But while he'll be committed to his wife, he's not interested in any kind of emotional investment and certainly not in falling in love. Can Kass convince him to change his mind?
This is my first time reading a romance by Jane Porter and I enjoyed it very much! I loved Kass's character – she's a bit naive but clearly intelligent. She knows she's not the wanted bride, but she's also determined to fulfill her part of the marriage because the last thing she wants is to be back under her father's control. He'd never appreciated her for her brains but treated her poorly as she didn't have the social skills of her sister (the ones that made Damen choose her sister in the first place). Now she has to prove to Damen that she's worthy to be his companion yet not scare him off with anything that looks too affectionate that might make him wary. Clearly Damen has been hurt by something in his past as evidenced by his determination to keep 'feelings' out of their marriage and figuring that out is a mystery Kass wants to solve.
The setting is beautiful and most of the story takes place on Damen's yacht as they travel from one Greek island paradise to another. At each stop, Damen and Kass find some conflict that challenges them while also experiencing some intimate and sexy encounters. Sex isn't a problem for them, but making their marriage of convenience into a real one won't come until Damen tells Kass about his past and figures out a way to move forward. Interesting characters, a beautiful locale and a passionate romance make this a thoroughly enjoyable story!
Book Info:

Publication: June 18, 2019 | Harlequin Presents | Passion in Paradise #3
A merciless groom
A not-so-convenient bride
Scarred by his dark past, Damen Alexopoulos does not let emotion dictate anything—especially his choice of wife. So when his convenient society bride is switched at the altar for her innocent younger sister, Kassiani Dukas, Damen is adamant their marriage will remain strictly business. He's too damaged for anything more. Yet Kassiani's determination to know him—and the intense passion of their Greek Island honeymoon—could be this ruthless Greek's undoing!