All I Need For Christmas Is A Duke by Delilah Marvelle & Maire Claremont  is a sassy, steamy, anthology that is sure to light up your holiday season
Merry Christmas, Mrs Robinson by Delilah Marvelle
Martin Pierce, the sixth Duke of Somerset, has been secretly in love with his childhood friend, Jane Robinson for years. He is forced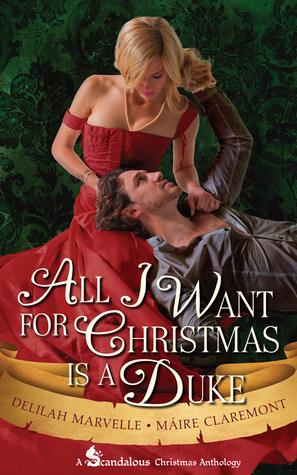 to give up on his dream of ever having a relationship with her when she marries another.  Years pass and Martin has once again been reunited with his long time friend, whose marriage did not work out.  He is on intent on winning the affections of Jane and making her his own.
Jane is reluctant to have a relationship with Martin after her unhappy  marriage.  She is also put off by the fact that Martin is five years her junior. Martin will not give up however, and sets out to convince her that age does not matter when it comes to matters of the heart.
I really enjoyed this short story and I found myself rooting for Martin to win the affections of Jane.  I'm not usually much for the younger hero, older heroine type stories but I found this story to be quite endearing. This is the first time I have ever read Delilah Marvelle, but I quickly discovered a new author to love!  I will be looking for more of Ms Marvelle's work to add to my keeper shelf!
The Twelve Day's Of Seduction by Maire Claremont
Alexander Hunt, the eighth Duke of Berresford,  is ready to toss his governess out when he learns that she has not been honest with him.  The only thing that keeps him from doing so is the deep bond that she and his daughter share. He also realizes that despite her deception that he has found himself to be quite attracted to Adriana Flint.
Adriana loves the dukes daughter very much and can't imagine being parted from her.  In order to keep her job she sets out to convince the duke to let her seduce him.  As the seduction ensues and heats up. Adriana is subjected to the disapproval of society. Will the growing attraction between the duke and the governess be able to withstand the harsh judgements of others in order to bloom and grow?
I easily fell in love with this rags to riches story, that sizzled from beginning to end. Ms. Claremont has a flare for writing hot romance that will leave you wanting more.  Another new to me author, whose work will be added to my ever growing automatic buy list!
If your looking for a couple of short, holiday romances to warm up your cold, winter nights, you can't go wrong with this wonderful anthology!