All Night Long by Anne Mather: Her first vacation in years and a new beginning after her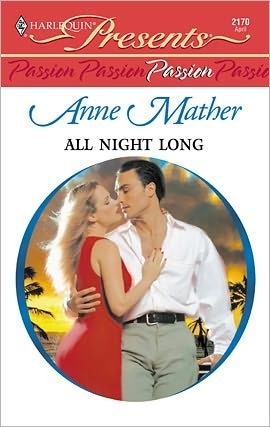 divorce, Ally spends her first night in the arms of a sexy stranger. For the first time in many years ally actually feels like an attractive woman, making this night just the thing she needs.
But when Raul appears again on her vacation, close to the friend she's visiting, Ally doesn't know what to do. She can't be with him, but Raul refuses to let her go. Although older than him by nearly a decade, Raul refuses to let age, or any other obstacle, get in between them. If only Ally can listen to her heart and not her head telling her she isn't enough for sexy, young Raul.
Then he gave her a tormented look. 'Let me go, Ally Sloan, or I may do something we'll both regret.' His hand came out almost of its own volition and shaped her cheek. 'You're very sweet, do you know that? And I'm old enough to know better.'
Ally drew a trembling breath. 'You're not implying that I invited you in here to—to—'
'I'm not implying anything,' he said huskily. And then, with a muffled oath, he bent his head and brushed her mouth with his…
All Night Long was definitely a slow start for me. A lot of the story was Ally talking on and on about her emotional state and every reason why not. It was a little too pessimistic and down on herself for me to fully enjoy Ally.
But Raul was an utter sweetheart. Can't say I love all his choices, but it was also understandable, the decisions he made. He definitely made up for it for me with his love for Ally. Don't know why he loved her, but it was sweet how he did and how he fought for her the entire story.
I didn't expect it, but I guess because it was so short, I enjoyed that the All Night Long was his chase of her. I waited a long time for this happily ever after, but it felt worth it.
I don't read many of these Harlequins, but I overall I enjoyed All Night Long. Definitely recommend it if you want that Caribbean vacation feel!
Book Info: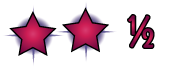 Publication: August 15, 2014  | Harlequin Presents |
A night of desire, a lifetime of passion?
Ally Sloan's flattered when a gorgeous stranger seeks her out. Single again, after years in a loveless marriage, a heady night of desire is just what she needs to boost her confidence and remind her that life can be passionate. Off to the Bahamas the following day, Ally tells herself she's relieved not to be seeing Raul again, she is older than he is, after all! But more than one surprise awaits her in the sultry heat of the Caribbean….