Ghost of You (Phantoms #3) by Kelly Moran is a well paced paranormal romance that at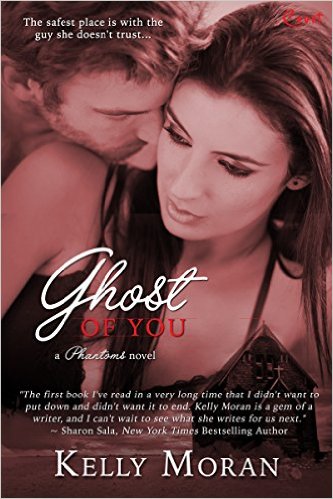 times gave me chills, made my heart beat faster, and at the same time filled me with hope. Because it's not only Sammy who needs closure…
Sammy and the Phantoms team are in her home town for their latest paranormal investigation and it will prove to be very frightening. As the past comes rushing back at Sammy, the future also beckons.
Cain, a psychologist and part of the Phantoms team, is someone who Sammy dislikes immensely. The feelings she has are palpable. I immediately was intrigued and wanted to know more about Sammy and what was provoking her to feel this way. Cain has no idea why Sammy feels the way she does, but the tension between the two of them is starting to become so noticeable that they are told to play nice together if they want a future on the show together. That little push might be all they both need, because the unexpected attraction and emotions are almost as overwhelming as the nightmare they are walking into in Sammy's home town.
As trust is slowly built between Cain and Sammy the suspense of the paranormal aspect of Ghost of You also picks up. At the same time they might be finding close to answers though, Sammy is suddenly the target. Will they stay safe, find the answers they need, and be able to face their feelings for one another?
Kelly writes this plot in a way that makes it very believable and very scary at times! I liked how I didn't have all the answers right away, and as she drew me further into the story I found out more at just the right times. I really liked Sammy and Cain. They work well together and look out for one another. They have to tread carefully on a personal/professional line, and I was interested to see how they'd do this since there was so much animosity on Sammy's part for part of the plot. Kelly made Sammy and Cain realistic, their feelings were believable, and she made me really care for them and feel for them. I like them together, they have to work to get to the future and this is a good thing. Kelly blended this paranormal plot very well with the romance side of things, and it all fit together well.
The paranormal suspense part of the plot of Ghost of You was creepy and evil at times, making Ghost of You very unsettling at times. Through this, Kelly managed to keep me interested, wanting to know more,and wanting resolution.
I loved all the secondary characters, seeing other members of the Phantoms, as well as getting to know more about Sammy and her family. This especially really added depth and more understanding to who Sammy was.
I'd recommend Ghost of You to any romance reader who likes paranormal suspense that will give you goose bumps!
Book Info:

Published: September 21st 2015 by Entangled: Covet
The safest place is with the guy she doesn't trust…
It's no secret amongst the Phantoms crew that lead investigator Sammy Hanesworth pretty much hates psychologist Cain McClutchen. The tension between them is taut with dislike…and unexpected attraction. Cain knows full well that something about him rubs Sammy the wrong way. But now they're on a terrifying case-with orders from the network to get along or else.
Filled with past horrors, the Nebraskan site is more than creepy. And Sammy knows it all too well. It's her hometown and near the place where her mother was killed. As the sinister presence makes itself known, Sammy finds herself turning to the last person she ever expected-Cain. Even as darkness surrounds them, tensions gives way to something bright and unexpectedly intimate. But nothing will prepare them for the evil they are about to face…