All Our Shimmering Skies by Trent Dalton: As bombs fall from the sky down on Darwin in 1942, and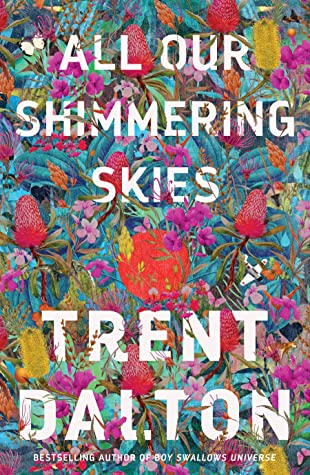 the war sirens ring out across the northern Australian city, gravedigger girl Molly Hook hunkers down in her mother's excavated grave hiding from more than the invading Japanese enemy.
Having experienced more horror and hardship in her short 12 years then most will experience in a lifetime, Molly emerges courageous, fearless and with her heart of stone determined to journey into deep country to locate legendary Longcoat Bob and beg him to lift the curse he placed on her family two generations prior. With only a keep sake gold mining pan given to her as a 'sky gift' by her mother, a hardened red rock and an unlikely companion in actress Greta Maze, Molly begins to solve the riddle engraved on the back of the pan, which maps the journey to the fabled gold cave and Longcoat bob himself. With Darwin and possibly the rest of Australia under attack from the Japanese, Molly's pilgrimage is desperate and yet full of unwavering faith given she will need her stone heart to escape her true enemy – the one thing she desperately needs Longcoat Bob to melt.
All Our Shimmering Skies is a semi historical drama and an intense cultural immersion that is wrapped in the magic of a vastly untouched landscape wherein love and hope remain front and centre. Dalton's writing is simply sublime and whilst the harsh brutality of the era was challenging to stomach from time to time, his storytelling and characterisation were masterful. From our fearless heroine Molly, to our presumed Japanese enemy Yukio, the beauty and yet dark desperation within each is made all the more profound given the sheer tenacity and grit each character displays. And whilst a little further light and humour was needed to meter the inherent darkness and fear of what we know is coming, love grows in the most unlikely of places and becomes the unyielding torch that helps guide their way. Undoubtedly, this is not a soft or gentle read and definitely not for the faint hearted. However, for those who love incredible storytelling, brilliant characters, creative context and powerful themes based on love and hope, I highly recommend you set aside some time to dig into this one shovel first. I simply cannot wait for the film!
Book Info:

Publication: 29th September 2020 | 4th Estate |
Darwin, 1942, and as Japanese bombs rain down, motherless Molly Hook, the gravedigger's daughter, turns once again to the sky for guidance. She carries a stone heart inside a duffel bag next to the map that leads to Longcoat Bob, the deep-country sorcerer who put a curse on her family. By her side are the most unlikely travelling companions: Greta, a razor-tongued actress and Yukio, a fallen Japanese fighter pilot. Run, Molly, run, says the daytime sky. Run to the vine forests. Run to northern Australia's wild and magical monsoon lands. Run to friendship. Run to love. Run. Because the graverobber's coming, Molly, and the night-time sky is coming with him. So run, Molly, run.
All Our Shimmering Skies is a story about gifts that fall from the sky, curses we dig from the earth and the secrets we bury inside ourselves. It is an odyssey of true love and grave danger, of darkness and light, of bones and blue skies; a buoyant, beautiful and magical novel abrim with warmth, wit and wonder; and a love letter to Australia and the art of looking up.