All Scot and Bothered by Kerrigan Byrne is the second book in the Devil You Know series and although it can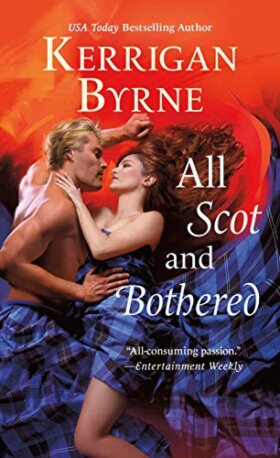 be read as a stand-alone, I do think reading the books in order improves the books.
The series is based on three eccentric women who attended school together and formed a friendship. They called it the Red Rogues Society because they all had red hair. They wanted to discover all the things men were allowed and women were not. Their shared secrets kept their bond of friendship strong.
Cecelia Teague was rescued from her cruel father by an unknown benefactor after her mother passed away. Her benefactor sent her to a boarding school where she meets Alexandra and Francesca, her two best friends. Years later, Cecelia discovers her benefactor was Henrietta Thistledown (also known as Scarlet Lady) her aunt. Her aunt left her a fortune along with a gambling establishment that also helped women by training them for jobs. Cecelia is a brilliant mathematician and she discovered Henrietta had been too. Henrietta had left a letter and an encoded diary for Cecelia that she had kept of debts and government secrets she had collected. Henrietta had made plenty of enemies and unknowingly Cecelia became entangled in the web of danger.
Cassius Ramsay was on a mission to save the young females that were disappearing and as the cynical Lord Chief Justice of High Court, he took his responsibilities seriously. He suspected Henrietta's gambling hell was involved and he was determined to find the missing girls. Discovering that Cecelia, the one woman who affects him after years of indifference, has inherited the business of the Scarlet Lady increases his suspicions. He soon realizes that Cecelia played no part in the disappearance of the girls and that she is in danger. He knows he must keep her safe while she deciphers the diary that will incriminate high government officials with various crimes. But can he overcome his cynical beliefs and open his heart to Cecelia and a future for them?
The book is fast-paced with lots of twists and turns that kept my attention until the end. The ending was unpredictable and the culprit behind the missing girls was surprising. I have enjoyed reading the first two books and I cannot wait to read the next adventure of the Red Rogues. So far, the author has given us hints into Francesca's mysterious life and I know it will be a great story.

Book Info:

Publication: September 29th 2020 | St. Martin's Paperbacks | Devil You Know #2
They are a dangerous duke, a fierce lord, and an infamous earl—dark, bold, brave men who know exactly what they want. And there is only one woman who can bring them to their knees…
He is first and foremost—at everything. A man who's made his own way in the world through ruthless cunning and sheer force of will. A strong and imposing Scot who can turn on the charm but does not suffer fools. His title: Lord Chief Justice of the High Court. His name: Cassius Gerard Ramsay. His mission: To investigate the goings-on at London's most notorious gaming hell, owned and operated by one of the most intriguing and desirable women he's ever met.
IN THIS GAME OF LOVE, THE RULES DO NOT APPLY
Cecelia Teague was an orphan facing a rather dire future—until a secret benefactor from her mother's scandalous past swept into her life. Sent to prestigious boarding school and later to university, Cecelia believed high society was at her fingertips…Then, from out of nowhere, she became the inheritor of a gambling establishment. Now Cecelia must live two lives: one as a proper lady who finds herself undeniably drawn to Lord Ramsay and the other as a savvy gaming hell owner trying to save her business from the very same man. He has no idea she is both women…and Cecelia would like to keep it that way. But what happens when consuming passion and escalating danger threaten to reveal the truth?