Montana Dreams by Anna J. Stewart: Peyton Harrison has a high level job at a tech company. Work is her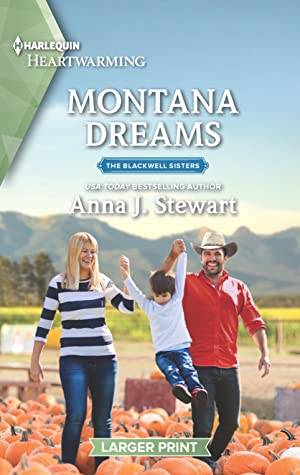 main focus now, but she is still trying to make peace with her younger sisters. They are mad with her after finding out she kept a huge family secret from them for years.
Peyton has started receiving weird threats. Her boss hires her a bodyguard, which feels a little annoying a times. As the threats get even more serious, Peyton is sent with her bodyguard, Matteo Rossi, to a ranch in Montana where the grandfather she never knew and some of her sisters live. Even though Peyton would be able to do work in this remote location, she is pushed by Matteo and her boss to take some vacation time.
Matteo is an excellent bodyguard, but Peyton finds out he has a vulnerable side. His young son lives far away in Japan with his mother and a step-father. Through a variety of circumstances, the son, Gino, is able to come stay at the Montana Ranch.
The author develops Peyton well. As with many people, Peyton is Type A and driven. She doesn't want to be too open and tries to protect herself. Matteo comes across as very professional, but has a tender heart, especially when it comes to his son. One of my favorite characters was Peyton's grandfather. He is a rancher with a lot of wisdom and understanding, not afraid to do what needs to be done.
Montana Dreams is a dream of a book and a sweet romance. It would be perfect for a Fall Hallmark movie. The novel is part of a mini-series, The Blackwell Sisters, where each one is written by a different author. Though this story is complete in its self, it would be fun to read all the stories in this series.
Book Info:

Publication: October 6, 2020 | Harlequin Heartwarming | The Blackwell Sisters #3
Can a single dad and a business whiz…
Find the right connection?
Swapping Silicon Valley for a Montana ranch isn't Peyton Harrison's choice. Nor is bringing along a bodyguard. But until threats subside at Peyton's tech company, Matteo Rossi intends to watch over her while also reconnecting with his young son. Peyton's instant bond with little Gino is making her rethink her path—and her feelings for Matteo. Is a new dream unfolding under Montana's endless sky?