All the Wright Moves by K.A. Linde: Nora just needs a bit of space to get her head and heart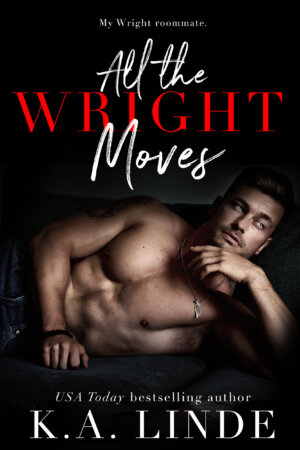 back together after finding out that her boyfriend and best friend have been seeing each other behind her back and if that wasn't bad enough now they are set to get married! Which is how she finds herself sharing a house with Weston, her brothers best friend. It's really perfect with Weston being in L.A for work so Nora will have the house to himself, that is until Weston returns home.
Soon the two find themselves forming an easy and relaxed friendship one that is helping Nora get back her confidence to flirt with men again. But what happens when their newly formed friendship begins to come with a few extra more than friendly feelings, can Nora take such a big jump again especially with Weston planning on leaving again?
A brothers best friends romance is always a win in my books and add to the fact that it is set in the Wrights universe and it is sure to be a knock out! I have absolutely been loving this series with all its family drama and intricate dynamics all while getting to see each sibling find their way to true happiness. As for Nora and Weston well they just wormed their way into my heart with their cute friends to lovers, slightly forbidden love story, I just loved that Linde incorporated so many of my favourite tropes into this one book.
I just loved Nora, she has had her heart well and truly beaten up by the two people that she trusted the most in her world and all she wants now is to be worthy of being someones number one priority. I really liked getting to see bit of Nora's work world as a wedding planner and really this only showed that even after having her heart broken she still truly believed in true love and happily ever afters.
It really is impossible not to love all the heroes that Linde creates and Weston is no different. Our hero Weston was just the cutest! I loved his easy and relatable personality and that he helped get Nora back her confidence. I just loved getting to see Weston play dating coach for Nora and in doing so not only helping build up her confidence but also helping himself open up and deal with some of his own past baggage. I really liked the way that Linde worked everything for these two so that Nora got that bit of stability that she wants in a relationship but also gave Weston his chance to make it big in the music industry.
Goodness me the chemistry between these two was out of this world hot! I loved getting to see this small spark grow and grow into the combustable ball off attraction as they played along with their fake dating game. I just loved getting to see them make their journey from friends helping each other out to their playful banter that turned incredibly steamy. I think it safe to say that Nora and Weston have had one of the cutest build ups in the Wright universe. It was also really nice getting to catch up with some of our past favourites and seeing how their relationships have grown and progressed. I absolutely ate up the bit where Campbell pulled out the whole big brother card adding a bit of light angst.
All The Wright Moves is a total must read! This book will leave you feeling all warm and fuzzy as these two characters find their way to true blissful happiness.
Book Info:

Publication: June 21, 2022 | K.A. Linde | Wright #12
When I moved in with my brother's best friend, I thought it was temporary.
Weston Wright would be in LA with my brother for six months. I'd get the place to myself to get back on my feet. A perfect plan.
Until he comes back and asks me to stay.
I take one look at those beautiful baby blues, the dimpled smirk, and muscled arms, and say yes. I want to say yes to a lot more, but I've dated exactly one boy my entire life, and not only did he cheat on me with my bestie, now they're engaged.
I don't even know where to start with dating. But when I mention it to Weston, he offers to teach me how to date. No strings attached.
All I have to do is not fall in love with him…or let my brother find out.