Her Secret Royal Dilemma is Chantelle Shaw's fairy tale twist of The Little Mermaid and starts off with a brilliant splash.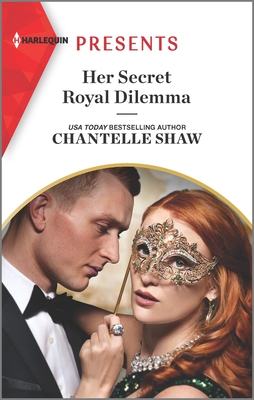 Prince Eirik's last recollection in the wild storm out at sea was being rescued out at was a stunning mermaid. Convinced he imagined it; Eirik is shocked to discover during a meet and greet that Arielle is his rescuer. Recognizing her instantly he can't fathom how his mermaid is standing here on solid ground, supported by a stunning pair of legs. Attraction is instant and Eirik invites Arielle to dinner to explain.
Proud to show Eirik her line of recycled art, Arielle passion for sea conservation shines through. She's also attracted to Eirik but sticks to her instincts and rejects Eirik's request to stay over after dinner. Just as he's about to leave they discover Arielle's studio has been broken into. Without a doubt this has something to do with her father's history and desperate to get away from the narrow-minded townsfolk after a break in Arielle accepts Eirik's invitation to work for his research centre in his homeland.
Battling against families and history that can't be changed both Eirik and Arielle have a lot in common. But as they grow closer, when is the right time to tell Eirik about her history and why even bother? It's not like Arielle can ever be Eirik's Queen. Around every corner is Eirik's mother's desperate attempts to marry him off. Life is changing now that Eirik is no longer just the "spare". Does the Queen take things one step too far when she creates havoc?
Chantelle Shaw's fairy tale twist of The Little Mermaid had all the makings of a fairy tail (yes tail). The evil queen, the odds being heavily stacked against the heroine; the beautiful prince trying to save the world; a beautiful mermaid and a (spoiler alert) happy ever after. I really enjoyed the journey and I loved Arielle standing up for what she believed in more than once. I wanted her to win the Prince and was happy with the exciting journey she took to get there.
Another brilliant instalment of Passionately Ever After, highly recommended to all who fondly remember fairy tales as a child.
Book Info:

Publication: July 2022 | Harlequin Presents | Passionately Ever After #8
Moments from drowning, Prince Eirik is saved by mysterious Arielle Tremain. Royal duty dictates that he ignores their instant attraction. But he can offer the mesmerizing marine conservationist her dream job—in his kingdom…
After a lifetime spent paying for her father's crimes, Arielle can't believe Eirik's generosity. Or that a future monarch desires her. So, when he seeks her out, Arielle faces the ultimate dilemma: indulge in this rare irresistible connection, knowing her past could taint Eirik's future…or walk away from the only man who really sees her?
Read all the Passionately Ever After… books:
Book 1: A Baby to Tame the Wolfe by Heidi Rice
Book 2: Stolen Nights with the King by Sharon Kendrick
Book 3: The Kiss She Claimed from the Greek by Abby Green
Book 4: A Scandal Made at Midnight by Kate Hewitt
Book 5: Cinderella in the Billionaire's Castle by Clare Connelly
Book 6: The Princess He Must Marry by Jadesola James
Book 7: Undone by Her Ultra-Rich Boss by Lucy King
Book 8: Her Secret Royal Dilemma by Chantelle Shaw