In Road to You (Band of Brothers #2) by Barbara Ankrum, Investigative Reporter Gemma Wade is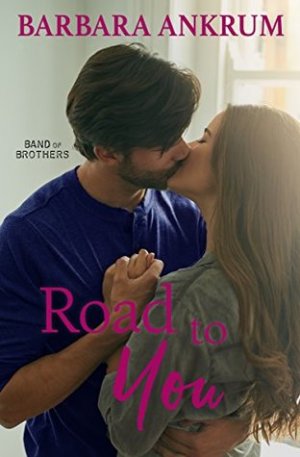 determined to write the best story she can to save her career, even if being sent to Mariette, Montana seems like a punishment. However, she never imagined she'd stumble upon a story that could make her career. But is exposing Noah Mathis for who he really is worth jeopardizing any chance of a future she could have with the former Navy SEAL. Will Gemma do what's right or will she lose her shot at happy ever after because her career is important to her?
"I'm Gemma. So…Noah, like the flood?"
"Yeah. I've never heard that one before."
She bit back a smile. "Sorry. You're a rescuer by nature, then?"
"Me? Nah I also try to avoid arks and anything that smacks of animal husbandry."
This is the first book I've read by Ms. Ankrum and I've got to say that I absolutely enjoyed it. Everything about it – the main characters, the dialogue, the fast-paced plot – pulled me in from the very beginning and had me reading quickly because Gemma has fallen on hard times when it comes to her career and if she's not careful she could lose her job. Will she be able to deliver a story that will help her secure her job? Will she do something that could hurt her chances of having a future with the man she's falling in love with? However, it was from the moment the hero and heroine come face-to-face for the first time that I loved most about the beginning because Gemma is embarrassed by what happens, but is lucky that Noah comes to her rescue.
As for the dialogue, it was entertaining and intense due to the main characters back stories because Noah has been through a lot due to what happened to his sister years ago and I could understand why he needs to escape his life every now and again. While the heroine, she's been through so much with her ex and is still having to deal with him. Why is he so determined to make her life hell? Moreover, the heroine is strong, brave, hard-working and I liked the decisions she makes when it comes to Noah because she knows he's had it rough and doesn't need to suffer anymore pain and injustice than he's already had in his life. I also liked how she handled her ex and stood up to him when he's a complete jerk to her, even when she had me wondering why she was ever with the man in the first place. While the hero, he's a good man and I could understand why he has trust issues after everything he's been through. He's also confident, hard-working and I liked the decisions he makes when it comes to trusting his friends more, dealing with the heroine's ex and going after what he wants – happy ever after with Gemma. Will he be able to make things right with Gemma?
"I…don't understand."
"I think you do. She wrote to me. Told me what I never gave you the chance to say. She had your back. Like my friends – my brothers – did that last night in Marietta. I told them the truth and amazingly, they forgave me. You did me a huge favour, Gemma. What happened back there changed so much. It changed me."
Overall, Ms. Ankrum has delivered a really good read in this book where the chemistry between this couple was strong from the moment they met; the romance was delightful and had me loving these two together because Gemma needs someone that will put her first; and the ending had me loving the hero's determination to make things right with the heroine because she changed his life for the better. However, it was the epilogue that wrapped this story up perfectly, as Gemma and Noah deserves the happiness they've found, especially after all that they've been through. Then again, the surprise the heroine has for the hero makes everything so much better since he never thought he'd ever find the love and happiness he's found with Gemma. I would recommend Road to You by Barbara Ankrum, if you enjoy the mysterious strangers trope or books by authors Eve Gaddy, Ann B. Harrison, Jeannie Watt and Jane Porter.

Book Info:

Publication: June 7th, 2018 | Tule Publishing | Band of Brothers #2
Investigative reporter Gemma Wade has been dispatched to her own personal purgatory—small town Marietta, Montana—to write a fluffy, romantic piece about the unprecedented spike in marriages there. Being punished for an embarrassing career misstep is bad enough, but it's probably karma that she also stumbles upon Mr. Right in the absolute wrong place.
Noah Mathis is in town for a wedding with his ex-Navy SEAL brothers, but can't get Gemma out of his mind after meeting her at a party. He wants her to be his plus one for the week, even knowing this short reprieve from his real life will end all too soon.
It isn't long before Gemma realizes that Noah isn't who everyone believes him to be. Scooping the story of his true identity may just save her flailing career. But is sacrificing her happily ever after worth it?