All We Knew by Jamie Beck: Hunter and Sara Cabot seemingly have it all. He's the sexy, charming, and dedicated CFO of his family's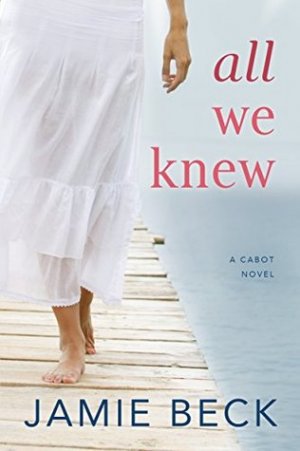 company while Sara used to work in marketing for a major company. She's smart, generous, fits in with his family, and loves to volunteer. But now their previously perfect marriage is showing the cracks of a couple growing apart.
Hunter is consumed with his disdain of and feud with his stepmom, new plans to grow the business, and fight a buy-out offer his dad is intent on considering. While Sara is now a wife without a job as she focuses on the one thing she wants more than anything: a baby. But things are not going their way as they continue to struggle to have the family of their dreams.
"Is that why you've been so tight-lipped with me?"
"I know how you feel about CTC, so I'm not bothering you with it."
She frowned. "Just because I don't always agree with everything you think doesn't mean I don't want you to talk to me."
It is a rollercoaster as they fight, makeup, and revisit old arguments. Hunter and Sara are perfect for each other, but life has presented them with challenges they aren't sure they can face anymore as a couple. They can't imagine their lives without the other, but neither feels supported in pursuing the version of the life each respectively wants. As the drama with the business grows, Hunter and Sara have to figure out what they really want from their life and their relationship.
"That's not it." He scooted forward and held her hand. "How about you let me finish? I promise-"
Then his phone rang.
"Please don't get that." She bit her lip.
All We Knew is compelling, heartbreaking, and emotional. Jamie Beck doesn't pull any punches between the growing Cabot family tension and drama and the heartbreak of struggling to get pregnant. Ms. Beck continued to develop the Cabot family in this standalone while introducing new characters that will tug on your heartstrings. Fans of Julia London and Kelly Jamieson will enjoy All We Knew.
Book Info:

Publication: January 30th 2018 | Montlake Romance | Cabot #2
For Hunter and Sara, getting married was easy. It's staying together that's the true test of love…
Hunter Cabot deeply loves two things: the international tea company he's helped his father build, and his wife, Sara. From the moment he first saw her wide smile on their college campus years ago, Hunter fell hard. Yet now, with other family members pushing to sell the thriving business and Sara grieving their failure to start a family, he's suddenly facing the crushing loss of both.
The relentless ambition that Sara once admired in Hunter is now driving them apart. Each missed doctor's appointment, neglected dinner date, and family squabble accentuates their differing priorities. Still, Sara struggles to create the home life they'd envisioned, until unsettling developments—both personal and professional—push them to the breaking point.
When love is put to the ultimate test, can Hunter and Sara stop fighting each other long enough to fight for their marriage?