In Almost Forever (Austin Heroes #2) by Kathy Clark, Justin Archer is one of the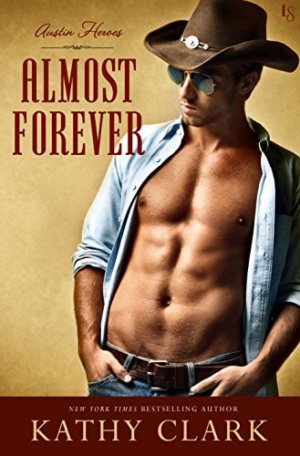 best Texas Rangers and never has trouble digging deep to solve a case. But when a skeleton is found and the chief suspect is the dead man's wife, Justin struggles with his growing feelings for the gorgeous woman that's managed to turn her life around while doing his best to remain loyal to his career.
="So you're officially classifying it as a homicide?"
"Considering I didn't find any bullet holes or evidence of a suicide, I'd say so. Plus, it's highly unlikely that he'd strip down before he fell on a rock and died."
Her husband has been missing for years, but Lori Roberts now finally has closure when his body is found. Unfortunately, she's the chief suspect in his homicide and unless she can convince the hot Texas Ranger in charge of the case that she didn't have anything to do with her husband's death, then she will go down for the crime. Will Justin help her prove her innocence?
Having absolutely loved the first book of this series called After Love featuring Nick as the hero, I really wanted to read more of the Archer brothers, and I've got to say that Justin's story did not disappoint. The prologue sets the fast-pace of the story with the grisly discovery of the body. Moreover, a lot happens within this story both with the investigation and various incidents that are aimed at the heroine. Who is causing problems for Lori? Why is someone causing problems for her? Answers to those questions definitely had me riveted to every page wanting to discover who was responsible and why they were harassing the heroine.
The dialogue was intense due to the main characters back stories, especially that of the heroine. Lori's husband was an absolute jerk who didn't know the meaning of the word faithful, so I could understand why she was more upset that her daughter lost her father than the fact that she lost her husband. Then again, it didn't seem as if the man cared all that much, if at all, that he had a daughter. However, there were also some light-hearted moments that made me smile. The Archer family is really close, and the advice Justin's Grammy gives him proves love is the most important thing to have in life.
Grammy just smiled. "You can spend all your time making love or you can spend all your love making time."
Justin groaned. "You're giving Eagles therapy, aren't you?"
"They were geniuses. You can find wisdom in all of their songs."
"So what you – or the Eagles – are trying to say is that I should see if there's something there?"
"Basically. How many times have you been in love?"
Justin and Lori were both wonderful characters, as to were the secondary characters in Lori's daughter, the employees of the vineyard Lori owns, and of course, the rest of the Archer family – Nick, Luke and Grammy. Grammy is a real hoot with her advice and her smoking, which the men don't approve of. Not that she lets their disapproval bother her.
The heroine is strong, brave and I liked how determined she was to win Justin over. No way was she going to go down for a crime she didn't commit, although – at one stage – it seemed all hope was lost and she may go down for the crime. Furthermore, she's a good mom and treats her employees like family. They would do anything for each other, which is proven when the truth finally comes out about what happened to Lori's husband.
While Justin, he's a very good Texas Ranger. He does his job to the best of his abilities, yet his attraction to Lori was messing with his ability to do his job. But what I liked most about the hero is how he was determined to help prove Lori innocent. Although there was a moment where he definitely questioned whether he was making the right decision until orders handed down from his boss definitely made up his mind to trust his judgment about her.
Nicely detailed sex scenes did justice to this couple's intense chemistry, which was instantaneous the moment they met. Justin knows it's a bad idea to get involved with Lori when he's investigating the murder of her husband and she's his number one suspect, yet there's no denying the attraction. Besides, Grammy gave Justin something to think about with her advice. So, how could he not follow his heart?
Overall, Ms. Clark has penned an incredible second novel for her Austin Heroes series, which has me looking forward to Luke – the last of the Archer brothers — story. The way this story ended was perfect, as the person responsible for killing Lori's husband was revealed and it was not anyone I suspected. As for the person doing their best to get rid of Lori, I did figure that person out pretty easily and the motivation behind it. But it was the words Justin said to the heroine about them being together that had me smiling. It's taken him years to finally find someone he wants to be in a forever relationship with and he's not about to let Lori get away. I would recommend Almost Forever by Kathy Clark, if you enjoy the sexy protector trope.
Book Info:
Publication: July 26th, 2016 |

Loveswept | Austin Heroes #2
Justin Archer is a Texas Ranger through and through, a loyal man devoted to the dangerous job he loves. But when the grisly discovery of a skeleton in a local vineyard turns an old missing-persons case into a vicious homicide, Justin finds that the toughest challenge of his professional career will be keeping his hands off his chief suspect: the dead man's beautiful, young trophy wife. Did Lori Roberts kill for vast material gain? The only thing Justin knows for sure is that their chemistry is instantaneous—and overpowering.
Lori worked hard to build a new life for herself and her daughter. She turned her husband's struggling vineyard into a thriving enterprise, and now she stands to lose it all over something that happened eight years ago. Justin could lock her up and throw away the key, but Lori desperately wants to trust him. More than that, she wants to let him into her wounded heart. Because Lori's been running from the past for a long time . . . and she's ready to start living for the future.