Almost Like Being In Love by Beth K. Vogt is an enjoyable read filled with sweet characters who question their life and those who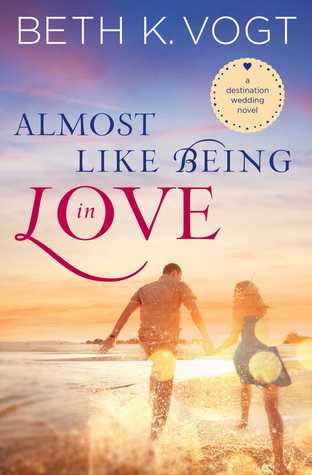 search for second chances.
Caron Hollister is a realtor who works for her father. All she's ever wanted was her father's approval, even going as far as breaking up with a great guy because he no longer approved of him and then getting together with a guy who he picked out. But when her father gives away the position she's been working towards her dream position, Caron quits without a second glance and finds herself unemployed. With time on her hands, Caron visits her best friend and bumps into her ex-boyfriend, Kade, the man she broke up with because of her father. On top of that, she wins an expense paid destination wedding.
Alex is Caron's current boyfriend, the one her dad approves of and he has his own issues he goes through in this book. Caron and Alex share each other's secrets and understand the problems in each other's lives, but there is a point where you need to progress in a relationship or take a step back. There's also a point when you need to ask yourself if there is more to your relationship than a strong friendship.
Kade is shocked with he sees Caron again. He never got the closure he needed when she ended the relationship abruptly but he can't think about that because he needs to hire a temporary stager for his office and the only person he can think of who is up for the job is Caron. Caron and Kade dance around each other and try to ignore their feelings for each other, but it's hard to disregard the chemistry they share.
"Some guys could rattle off entire lists of what attracted them to women. And him? He met Caron Hollister and tore up any sort of list because she made him stop looking."
Usually with romances where there are two guys fighting over the female, there is usually one who doesn't deserve the female or who isn't hero material, but with this story, both male characters stand on their own and are great characters. Both men were great, but there is only one who Caron can't live without.
I really liked the use of prayer in this book. Whenever one of the characters were going through a hard time or was seeking guidance, prayer was always the next step for the characters and I can definitely relate to this. I loved how the characters didn't know everything but wasn't afraid to seek answers. It was very refreshing to read about and the author did a great job incorporating these real aspects into the story.
This book is extremely well-written with well-developed characters and situations. If you enjoy your romance on the sweet side, I would highly recommend this book!
Book Info:

Publication: June 28th 2016 | Howard Books | Destination Wedding #2
Winning an all-expenses paid Colorado destination wedding might seem like a dream come true for some people—but Caron Hollister and her boyfriend Alex Madison aren't even engaged. How is she supposed to tell him she's won their wedding and honeymoon when he hasn't asked her to marry him? Being "perfect for one another" seems like the absolute best reason to get married. But what if their supposedly faultless relationship is merely a safe place to protect his secrets and a way to keep their families happy? After quitting her job, Caron accepts her best friend's offer to visit Colorado. She needs to catch her breath. Who knows, maybe visiting the destination wedding site will make a future with Alex seem like a reality.
Kade Webster just landed the biggest deal of his life with his company, Webster Select Realty, participating in the Colorado Springs Tour of Homes. He never imagined he would run into the woman who broke his heart—Caron Hollister—right when his career is taking off. Seeing her again, Kade can't help but wonder why Caron walked away from him years ago, leaving him with no explanation. When Kade learns his home stager won't be able to help with the Tour of Homes, he vaults past all the reasons he should stay away from Caron, and offers her a temporary job helping him on the project. This time, their relationship is purely business.
Spending time with Kade has Caron questioning everything. The man intrigues her—at times infuriates her—and reminds her of what she lost. Has she been settling for what everyone expects of her? Just because others believe she and Alex are an ideal couple, does that mean they should get married? And how can Caron say "I do" to one man when she's wondering "what if?" about another?