In Always On My Mind (The Sullivans #8) by Bella Andre, Dancer and choreographer Lori "Naughty" Sullivan left her dance crew behind, hopped a plane from Chicago to California and started driving as soon as she touched down. Done with her ex-boyfriend Victor, she needs to find something new to occupy her time. Lori sees the help wanted ad for a farmhand in Pescadero and jumps at the chance to do some hard work, rethink her life, and forget about men altogether. Only she didn't realize the owner of the farm would be tall, muscular, and absolutely the most gorgeous man she's ever met. Oh…and grumpy beyond belief. But the more Grayson pushes her away and doubts her ability to help out on his farm, the more Lori digs in her heels just to prove him wrong. When she realizes how much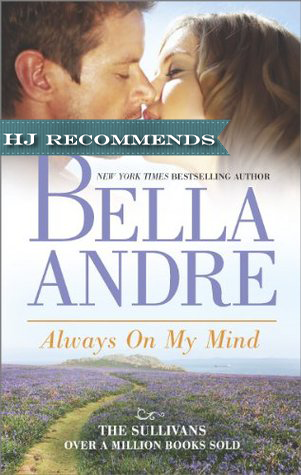 pain and guilt he's harboring from a loss three years ago, she knows she's the one who can help him get his life back again.
'He made her want to stomp and yell…but he'd also just given dancing back to her when she'd thought that dream, that love, might be gone forever. Apart from her twin sister, she'd never met anyone whom she had hated and loved in the same breath.'
Grayson Tyler once worked on Wall Street, living a fancy life in NYC. But he's more content now to own his farm, take care of his animals and contribute food to the local CSA. The only thing he doesn't tolerate is anyone butting in to his privacy on the farm so he can be alone with his work, putting his painful past behind him. Then Lori shows up unannounced and his life changes forever. She's not afraid of anything, especially not Grayson and his attempts to get her to leave. He's sure she's running from something herself and that they may not be so different underneath it all, both trying to recover from something in their past. Grayson denies his feelings for as long as possible until he finally has to admit he might not be able to make things work without his naughty cowgirl.
"You make me forget," he said in a raw voice. "Everything but how much I want you."
"You don't have to remember tonight," she told him, both of them panting from the force of their desire. "All you have to do is make love to me the way I've wanted you to from the first moment I saw you."
It was bittersweet to read Always On My Mind knowing that this is the final romance in The SF Sullivans series. But Bella Andre ensured we would have one more sweeping tale to tie things up when she gave us Lori and Grayson's love story.
I've been a fan of The Sullivans since the beginning, and with each sibling we learn more about, I've enjoyed how very different their personalities all are yet how well they work together as a family unit. There was every bit as much passion and intensity here as in previous books. Probably more so, actually, given that Lori/Naughty was such a vivid free spirit. I must say I did not see her ending up on a farm, working with the animals and the land, although I definitely figured she would tease and mercilessly antagonize the man she fell in love with. I think what surprised me most, other than the farm, was how she kept her positive outlook on life, even when going through a tough breakup and leaving dance behind temporarily. Lori had a way of looking at the world and seeing the possibilities as well as the beauty there that most of us take for granted and I thought that was rather inspirational, really.
I honestly wasn't crazy about Grayson in the first, oh, probably half of the book. Sure he had been through a devastating loss three years before. But he was gruff, rude and tried lashing out at Lori at every turn. Once he opened up a bit and we learned more about his past, I then understood his anger. His bossy attitude didn't deter Lori in the slightest, though, which was both comical and intriguing. They were the type of couple who liked to bicker and annoy each other, like it bumped up the chemistry between them. It makes for some interesting dialogue and some really, super powerful romantic scenes.
Whether or not you're a fan of The Sullivans series, I think you'll completely enjoy this contemporary romance. It has one of the sweetest HEA's I've ever read and brought happy tears to my eyes.
Book Info:

Published April 29th 2014 by Harlequin MIRA | The Sullivans #8
Can you find forever…a second time?
After a tragic loss three years ago, Grayson Tyler leaves his life in New York City behind and starts over in the rolling hills of the California coast. He's convinced himself that all he'll ever need again is the blue sky, a thousand acres of pasture and the crashing waves of the ocean.
That is, until the day Lori Sullivan barges into his life and promptly blows his emotionless and solitary world to shreds. Her passion and fire drive him crazy, as only a woman nicknamed Naughty can. But will Lori be able to convince him that it's safe to love her…and that forever isn't actually out of reach?