In Always the Last to Know by Kristan Higgins, Barb Frost and her husband of fifty years, John,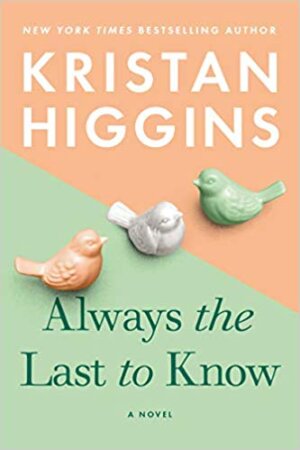 have been out of sorts for quite some time, if they're being honest. What started off as a love match turned into two people basically just coexisting together out of routine. But Barb wants a change. She finally makes up her mind to ask for a divorce, but before she can do so, John has a severe stroke and is fighting for his life. And that's when Barb finds out about what he's been up to during his retirement, making it even more difficult to do the right thing and stand by him. If it wasn't for their grown daughters, Juliet and Sadie, Barb might not even try. But just like she always has, she tries to be the glue holding the Frost family together.
'So this was what the rest of my life would be like. Alone, but a caregiver. Married, but to a man I'd wanted to leave…'
Juliet learns of her father's stroke just as she's having what is likely a mid-life crisis. She's got a wonderful husband, two beautiful daughters, and a demanding but successful career as an architect. And she's a nervous wreck. Who knew it would take such a toll on you, trying to be as perfect as possible? Then Juliet's younger sister Sadie comes back to Stoningham to help take care of their dad. She's also in the middle of some life changes. Not advancing in her art career and trudging along at her job as an art teacher at a Catholic school, Sadie doesn't know how to turn her life into something more fulfilling. She once thought it would be with her first love, Noah. And now, face to face with him again, she questions her decision to leave him behind years ago. But with her dad's future in question, is this the right time for Sadie to give it another shot with Noah?
'If she'd known how hard it was to have it all, she would've asked for less.'
A poignant novel that carried the best parts of Kristan Higgins' writing: the humor, realistic emotions, chaotic family dynamics, and small town living, Always the Last to Know quickly worked its way into my heart.
'Love isn't always the thing that fills up the room, or your heart. Sometimes, it's what sneaks into the in-between spaces.'
I think Always the Last to Know might just be my favorite of Kristan Higgins' standalones to date. And I don't think I've ever changed my views so drastically about a cast of characters before, starting off not really liking them, just seeing their flaws to then becoming so deeply invested in them by the end. But KH worked her magic and even made me like (or tolerate/empathize with) the so-called bad guy of the story. Not an easy feat. She wove together four vastly different POVs and made them seem cohesive, which paved the way to accepting and understanding each of them.
Those POVs I mentioned were all four members of the Frost family: Barb, Juliet, Sadie, and John. And suffice to say, the Frosts were, well…quite a mess. KH put them through the wringer and explored the relationships between them all. For Barb, it was with each of her daughters as well as John, during the unraveling of their marriage. Oh the drama, the raw anger, and the hilarious ways she dealt with what John did to her. Barb was rather stoic and a bit of a martyr at first, but seeing her views on her husband and their daughters explained a lot and made me see where she was coming from.
Sisters Sadie and Juliet were polar opposites. I connected with Juliet first, with her need to be everything to everyone all the time and the anxiety it produced. Something I think most women will understand. I got a kick out of her rather geek-chic British husband Oliver and he wowed me with a truly emotional, wonderful scene toward the end. Sadie I equally wanted to hang out with and shake some sense into her. (lol) Her comical inner thoughts and no verbal filter–especially around her lovely ex, Noah–was so much fun. Her lack of a plan or any thoughts of compromising? Yeah, that's where it fell apart. But by the end, I was cheering both Juliet and Sadie on to figure out their lives and cement their bond with their parents–Juliet with her father, Sadie with her mother.
John's POV was honestly tough to read. Something that I think will hit readers right in the feels. I was a caregiver to my father-in-law for eight years after he had two major strokes, although unlike John, he could speak. So reading John's jumbled thoughts and seeing him basically trapped in his head with no way to express himself, it made me misty-eyed every single time. (Okay, so it actually made me ugly-cry) John will likely be the toughest character for readers to like after what he did to his wife of fifty years. But I think KH found a way to make him more relatable, if not to help us feel some compassion for what happened to him.
Always the Last to Know was an unforgettable novel that charmed, infuriated, and delighted me in equal measures. The perfect mix of heavy and lighthearted, it was a shining example of Kristan Higgins' ability to craft a touching, compelling story.
Book Info:

Publication: Published June 9th 2020 | Berkley Books |
Sometimes you have to break a family to fix it.
From New York Times bestselling author Kristan Higgins, a new novel examining a family at the breaking point in all its messy, difficult, wonderful complexity.
The Frosts are a typical American family. Barb and John, married almost fifty years, are testy and bored with each other…who could blame them after all this time? At least they have their daughters– Barb's favorite, the perfect, brilliant Juliet; and John's darling, the free-spirited Sadie. The girls themselves couldn't be more different, but at least they got along, more or less. It was fine. It was enough.
Until the day John had a stroke, and their house of cards came tumbling down.
Now Sadie has to put her career as a teacher and struggling artist in New York on hold to come back and care for her beloved dad–and face the love of her life, whose heart she broke, and who broke hers. Now Juliet has to wonder if people will notice that despite her perfect career as a successful architect, her perfect marriage to a charming Brit, and her two perfect daughters, she's spending an increasing amount of time in the closet having panic attacks.
And now Barb and John will finally have to face what's been going on in their marriage all along.
From the author of Good Luck with That and Life and Other Inconveniences comes a new novel of heartbreaking truths and hilarious honesty about what family really means.