Ambush before Sunrise by B.J. Daniels is the third book in her Caldwell Ranch: Montana Legacy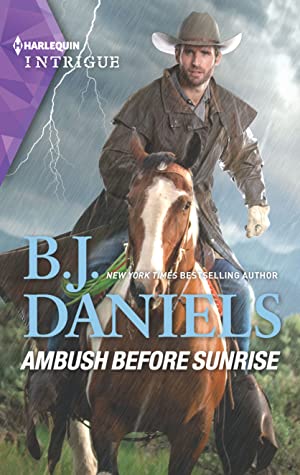 series. This story is a real page-turner with plenty of action and suspense.
Jinx McCallahan knew she made a mistake. A big mistake! She was trying to rectify that mistake right now. But "Big Mistake", T D Sharp, the husband she was trying to divorce just wouldn't go away. He wants half the ranch before he will sign the divorce papers. Actually what he really wants is Jinx back.
Ain't ever gonna happen! Right now Jinx's main concern is getting her cattle to their mountain pasture. Jinx knows that's not going to be an easy task. The "Big Mistake" has been bad-mouthing her all over town and no local wranglers want to get in the middle of a domestic dispute so none have, so far, signed up for her cattle drive up the mountain. Now she is surprised to to see three wranglers from Montana show up, Angus and Brick Caldwell Savage, twin brothers and their cousin, Ella Caldwell. Two other wranglers sign up also. Jinx is a little leery of those last two, Cash Andrews and Royce Richards, locals but not with the best reputations. Oh well! "Beggars can't be choosers." Jinx fears T D will follow the cattle drive up the mountain and cause trouble. Little does Jinx know how much trouble is ahead.
Angus Savage and his twin brother and their cousin decided to travel to Wyoming to help out Jinx McCallahan. Their mothers had been good friends and when Angus' mother, Dana Caldwell Savage heard Jinx needed help she encouraged the three of them to go. Angus remembers Jinx from the one time they met as kids. Does she remember him? Seems not. Angus liked Jinx when they met as kids and now he is attracted to her. He knows her divorce hasn't come through yet and suspects she isn't in the right state of mind to get involved with a man right now, but it never hurts to think positively. First they have to get the cattle moved and get back safely from the mountain. Easier said than done!
Ms. Daniels keeps the reader's interest with enough tension spread perfectly throughout the book. I liked the realistic characters and how the author kept me guessing as to what TD had planned and how Jinx and the Montana crew would handle it all. This is a super romantic suspense story. Another B.J. Daniels excellent story!

Book Info:

Publication: May 19th 2020 | Harlequin Intrigue | Cardwell Ranch: Montana Legacy Book 3
He's riding straight into danger.
Wrangler Angus Savage has come to Wyoming to help Jinx McCallahan get her cattle to high country. He's signed on for the dangerous drive, eager to reconnect with the woman he knew when they were kids. Now in the wilderness the no-nonsense cowboy and the strong-willed rancher must navigate the trail's many hazards—like her treacherous ex who wants her back…or dead.
New York Times Bestselling Author