In An Accidental Date with a Billionaire by Diane Alberts, Samantha Matthews was determined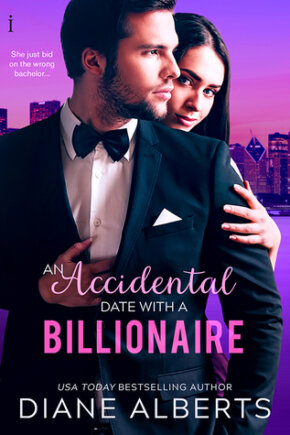 to do a friend a favor by bidding on her friend's brother during a charity bachelor auction. However, she ends up bidding on the wrong man and manages to buy herself a date with Taylor Jennings instead. Now, she's stuck having to spend time with Taylor and as she gets to know him, she discovers how much she's misjudged the sexy billionaire. Will Samantha take a chance on Taylor or will she walk away before she gets hurt?
="Now, where were we?"
"You were ignoring me for your phone," she said with a fake politeness that grated on his nerves.
Determined not to show it, he forced a smile. "Ah, yes. Date or business meeting. Which is it going to be? Let's get this over with soon, too. I have a busy schedule the next few weeks."
"I want a date. Why would I want to pitch to you? I don't even know who you are or what you do for a living, and to be completely honest? I don't really care."=
This was a fun and engaging read right from the beginning where mistakes can turn out to be a good thing; and which encompasses a heroine that walked away from her wealthy family in order to help people instead of doing wrong by people like her family once did; a hero that ends up proving to the heroine that he's not anything like she thought he was; and compelling dialogue that had me smiling at every interaction between Samantha and Taylor. Will the hero and heroine be able to make things work between them? Will Taylor be able to win the heroine's heart, especially when they have a difference of opinion when it comes to her mission and his in life?
"Marriage is bullsh**," he said.
She chocked on a laugh. "Go on."
"It' nothing more than an overly emotional business contract." He leaned forward. "Think about it. You meet a bunch of people every day, but then you meet one you like, for some reason or another, and you offer to buy them a drink, or dinner, and you do it again, and again, until you finally merge your name and bank accounts and split all your bills and save money. It's all one big transaction, rolled into one."
With the main characters, I could understand why neither want a relationship. The heroine holds so much guilt inside over her family's greed and how it hurt people and she's determined to do as much good as she can while the hero has done his best to make things better for he and his mother after everything she sacrificed for him growing up. In other words, he doesn't have time for a relationship and has a rather cynical view of marriage anyway. However, in saying that, I liked the hero's determination to win the heroine over because she intrigues him and challenges him.
Furthermore, the heroine is resilient, courageous, smart and I liked her determination to do what's right for people on the brink of losing their businesses. Can she help the client she's aiding at the moment? I also liked how the heroine's opinion of the hero changed as they got to know each other better. He's nothing like she was imagining in the way he isn't always ruthless. Really, he's kind and caring, which is proven in the moment they go on their date and he's committed to what she's making him do and even enjoys it. Despite the fact that the heroine was determined to make him do something out of his comfort zone, which ended up backfiring.
Overall, Ms. Alberts has delivered a really good read in this book where the chemistry was strong; the romance was nicely-detailed; and the ending left me absolutely delighted by the hero's determination to win the heroine's heart because they're good together and for each other. Will the heroine give the hero a chance, considering what happens to cause their relationship to go awry? Is the trust between them too broken for Samantha to forgive? I would recommend An Accidental Date with a Billionaire by Diane Alberts, if you enjoy the mysterious strangers trope, stories with billionaire heroes or books by authors Stefanie London, Victoria Davies, Jenna Bayley-Burke and Regina Kyle.

Book Info:

Publication: April 8th, 2019 | Entangled: Indulgence |
Samantha Matthews turned her back on her wealthy family to focus on social work. Those who know her think she's the heart of kindness. Those who know her really well know she's in a never-ending battle to make up for the harm her family's companies inflict on the world. Which is how she finds herself at a charity bachelor auction of all places.
But oops, she was supposed to bid on her bff's brother as a favor and accidentally bid on the wrong guy. Sue her for not being able to tell one stick-in-the-mud CEO from another.
Backstage, she goes to tell him not to worry about having to go through with a date or anything, but the oafish billionaire cuts her off dismissively. Looks her up and down, hands her a card with his assistant's contact details, and reminds her that sex is definitely off the table.
Oh, she'll call the assistant all right and have her make sure he wears jeans and comfortable shoes and to pick her up at seven a.m. The only "hammering" this guy is going to be doing is at Habitat for Humanity.
Too bad he turns out to be nothing like she expected.