An Acquired Taste by Kelly Cain: I have read several novels involving cooking competitions in recent years, but An Acquired Taste really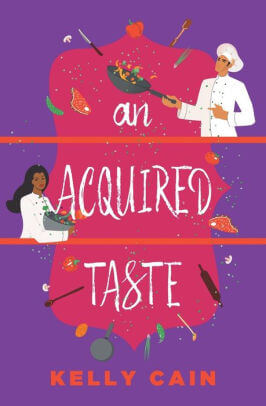 hits the spot. Both of the protagonists are held back from what they really want by having to deal with a parent. Rowan Townsend wants to expand her family's small, prospering restaurant, but there isn't money to do that. She is afraid to push too hard for changes even within their current location for fear of affecting her mother's fragile health.Knox Everheart is one of the sons of an overbearing, famous chef. Even though Know is not the oldest son, father Flynn sees him as the heir apparent to their culinary empire.
Rowan jumps at the chance to enter with her brother and mother in a televised cooking show competition. The prize money would be enough to move or build a new restaurant. Her hopes of winning plunge after she finds out the Everheart sons are also participants. Knox has been the thorn in Rowan's side ever since the years they attended the same culinary school.
Of course, it was easy to root for Rowan from the start. She was the underdog in the contest and the prize would change her life. Knox, at first, comes off just as arrogant as Rowan claims he has always been. The author does a terrific job of showing how much goes on beneath the surface of each character. We all have a way to hide secrets and hurts and it often comes off as less than charming. Rowan goes from calling Knox some horrible names to understanding what is behind his difficult exterior.
Even though I may not try them, it is always fun to see recipes for yummy food included in novels. Some of the items cooked for the contest would certainly be an acquired taste or no go for me; others sound totally delicious to me. The author certainly did some impressive research.
I am glad to see more multicultural books are coming out all the time. They reflect the diversity that has and needs to be part of our culture. This book is the first in a series. I look forward to book #2 by this talented writer.
Book Info:

Publication: June 8, 2021 | Tule Publishing | Everheart Brothers of Texas #1
May the best chef win…
After four years at the country's top culinary school and several years as head chef in her mother's restaurant, Rowan Townsend has built a notable reputation. Her farm-to-table collard greens have long been bringing everyone to the yard, but limits on the restaurant's size have led to long waits. Looking to expand the restaurant, she enters a televised chef competition. The problem? Her infuriatingly-talented nemesis from culinary school also enters.
To the culinary world, Knox Everheart is restaurant royalty. As much as Rowan wants to deny it, he's a gifted chef. Rowan knows her arrogant arch-nemesis is confident he'll win—he's certainly given her a run for her money more times than she'd like to admit. But this time, she's ready to show him who's boss.
Their rivalry soon sparks fireworks in the kitchen and, as the competition heats up, so does Rowan's attraction to Knox. And somewhere between pasta and gumbo, they both need to decide what's worth fighting for.