Second Chance at Sunflower Ranch by Carolyn Brown begins the Ryan Family series.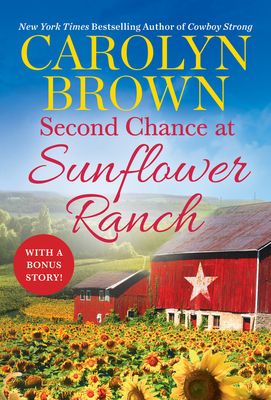 Addison "Addy" Hall is a live-in nurse at Sunflower Ranch whose job it is to care for the elderly ranch owners, Sonny and Pearl Ryan. Sonny has been diagnosed with MS and having Addy helping out full time makes the whole family feel more secure. Addy's nineteen-year-old daughter Mia also lives and works on the ranch. Mia doesn't know who her father is. Addy has kept that secret all these years. But Mia's father, Jesse Ryan is retiring from the Air Force after twenty years and coming home to run the ranch and help care for his adoptive parents. Addy knows she is going to have to tell Jesse the truth. Then maybe together they can tackle telling Mia.
Jesse Ryan is more than ready to retire from the Air Force and return home. He thinks he is prepared to be there with Addy Hall, the live-in nurse for his father. They were best friends since they were kids. They never wanted to take a chance on ruining that friendship but then crossed the line once – the night before Jesse left for the Air Force. He never understood why Addy stopped communicating with him. Upon returning home to the ranch he discovered they had a daughter together and that Addy didn't want to tell him she was pregnant because she was concerned he would insist on marriage. In her mind that probably would have ruined his dream of serving his country. Jesse believes he and Addy have a good chance of having their relationship become more than friendship. Time will tell.
This is a wonderful second chance romance story. I was emotionally invested in this story from the very beginning. I felt the family's pain when Mia leaves. I felt their joy when Mia returns. I enjoyed sharing the experiences and feelings of Addy and Jesse as their relationship develops. They come together so naturally. Ms. Brown always tells her stories in such a way that I feel the reader can't help but be drawn in. The Ryan family is one that I'm sure I will greatly enjoy following as the series continues.
Book Info:

Publication: July 27th 2021 | Forever |  The Ryan Family #1
From the bestselling author of Queen of Cowboy: regrets and old heartbreaks are unearthed in this sweeping love story as hometown sweethearts get a second chance at love—and being a family.
Retired combat medic Jesse Ryan hasn't been home much since he enlisted twenty years ago. Now he's headed back to Texas to help take care of his aging foster parents and run Sunflower ranch. But when he gets there, he finds his parents' live-in nurse is Addison Hall, his high school best friend and the woman he always regretted leaving behind after their one steamy night together before he shipped out. He's not at all surprised that their chemistry is still sparking, but Jesse is shocked to learn Addy gave birth to a little girl about nine months after he left—his little girl.
​Addy has her hands full as a single mom of a nineteen-year-old daughter who suddenly wants to rebel at everything. The last thing she needs is Jesse Ryan complicating her life even further, especially since she's always had a crush on the handsome cowboy. But the more time she spends with Jesse, the more she wonders what might happen if they finally let their friendship blossom into something more and became the family she'd always hoped for.
Includes the bonus novella Small Town Charm for the first time in print!