In Single Dads Christmas Miracle by Susan Meier, Clark Beaumont is still dealing with the after effects of his wife's death three years ago. Even though he has managed to keep his engineering business afloat, he is having a tougher time with his kids. His son Jack is failing all of his homeschool courses, and his daughter Teagan will only speak in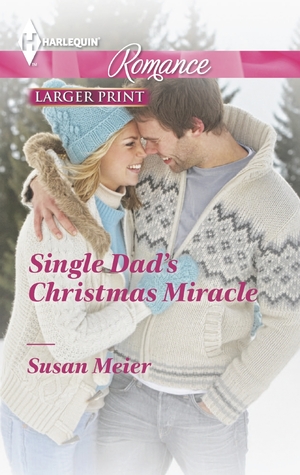 whispers to her father and brother. Clark sees Jack's grades as Jack "getting soft" and Teagan's refusal to speak out loud as shyness that will work itself out. Clark is hoping that hiring Althea will get Jack's grades back on track and his life back to normal.
Althea doesn't have to spend much time at the Beaumont home to realize that "normal" for them wasn't normal at all.
"The town she'd driven through at the bottom of the mountain had been decked out for Christmas. But this beautiful Victorian house, perfect for a dreamy holiday, didn't have as much as a string of lights along the porch roof."
She's taught middle school for years, and twelve year old Jack isn't behaving like any middle schooler she'd ever taught. The way little Teagan doesn't speak out loud isn't normal, either. If Althea is right, these kids are suffering, and they need her. As Althea attempts to heal this family, will it awaken a desire within her for a family of her own?
I love Christmas stories. There's just something about Christmas that makes people feel as if miracles can happen, love can prevail, and happily ever after is the most natural conclusion in the world. It's no wonder that romance authors set their toughest happily ever afters around Christmastime, and Clark and Althea are no exception. Susan Meier does a wonderful job of fleshing out Clark's character, giving the reader a reason for his dependence on organization and his apparent obliviousness to his children's needs. Althea has her own set of problems that hamper her.
"She might be attracted to Clark and she might long for a real relationship, but her problems had formed her She'd never been anything but afraid, skeptical, wary. She didn't trust."
The details of Althea's and Clark's stories are hard to read, but they make you root all the more for their Christmas miracle. Although hard to read in parts, and a slower pace than I usually like, I enjoyed this book. The characters were easy to invest in, it's set in my favorite time of the year, and Ms. Meier kept me guessing on how she was going to pull this one off. I would recommend this book to anyone who loves well-written Christmas romances with complex issues to be overcome by well-rounded characters you can invest in.
Book Info:

Expected publication: October 1st 2013 by Harlequin Romance (Book 4395)
Having recently lost his wife, Clark Beaumont is trying to make it through the holidays for the sake of his kids. But with his son failing at school and his little girl talking only in whispers, he needs nothing short of a miracle….
…when one arrives on his doorstep!
Althea Johnson is only meant to tutor Clark's son. But with her help the Beaumont family begins to come alive again, and against the odds Althea hopes that when Christmas morning arrives there will be four stockings hanging over the fireplace….