In In Love Again (Unruly Royals #3) by Megan Mulry, Lady Claire Heyworth has ended her twenty year marriage to a man who lied, cheated and stole so much from her. Starting over again in New York City seems like the best thing to do. Armed with a new attitude, Claire gets her first ever job and soon comes face to face with the only man she ever cared for, Ben Hayek. The summer they spent together before her ill-fated marriage to Freddy was the most romantic time of her life.
Claire smiled and wiped at her tears. "Seriously, though, don't you feel old sometimes? Too old to be necking on a couch."
"Of course I do," he said. Then, eagerly, "So are we going to neck?"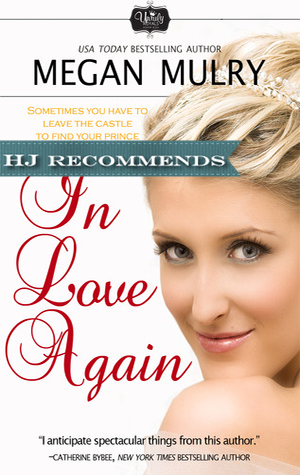 After a rocky start, Claire and Ben become reacquainted and it quickly becomes apparent that their feelings are just as strong as ever. It's like the last twenty years have faded away. Claire begins to question whether she is actually falling in love with Ben or if it is her residual feelings from their teen fling. But the more time they spend together, the more wonderful her life becomes. If only Claire can get things squared away with her ex and her daughter Lydia, she'll feel like a completely new woman.
"I think letting you go without a fight might be the greatest regret of my life."
Dr Ben Hayek is still trying to decide what to do with the house he and his now ex-wife are fighting over in Connecticut. The woman the interior design firm they hired sends over is none other than his long lost love Claire Heyworth. The British beauty broke his heart when she left abruptly after their summer together and he's never quite gotten over it. But Ben can't stay mad for long when he realizes how much he still cares for Claire. She's become a shy rather repressed woman who hasn't had a lot of love in her life. Ben knows he's just the man to show her how beautiful and sexy she truly is.
Then she whispered, "You're naughty."
Ben laughed, deep at the back of his throat, and then touched his wet fingertips to her lips. "So are you. You just don't know it yet."
In Love Again is a sweet and passionate love story about a couple who had to wait twenty years to finally get their HEA.
Book three in the Unruly Royals series by Megan Mulry can be read as a standalone, but will contain spoilers from the previous novels, so be forewarned. Now, if you have read either of the first two books, then this is like a reunion of sorts. We get to catch up with Max and Bronte, Devon and Sarah and see the rest of the family member's escapades. They are all just as outspoken and witty as ever, ready to antagonize or help each other out as the case may be.
I thought Claire and Ben were such a cute couple. Once they were reunited they made up for lost time and couldn't leave each other alone, acting like the teenagers they were when they had last been together. There wasn't a lot of conflict between them aside from the initial scene where they meet again for the first time in two decades. Instead, they were quite the united couple and seemed to draw strength from each other.
The bulk of the issues really stemmed from Claire's soon-to-be-ex Freddy and her daughter Lydia, both of whom she had a complicated relationship with of course. I liked the way Megan made Claire's conversations with Lydia a bit stilted and awkward which seemed realistic, given their situation. The only thing I wasn't keen on at first was how Ben treated Claire when they saw each other again. He seemed quick tempered throughout the story, but even more so then. However after learning more about how their summer fling ended twenty years prior, it made more sense.
I think fans of emotionally charged contemporary romance will really enjoy Claire and Ben's story. There were a lot of laughs, tears and happy sighs reading this one.
Book Info:

Published November 29th 2013 by Megan Mulry | Series: Unruly Royals #3
SECOND CHANCE…
The Marchioness of Wick is about to get a second chance at life…whether she wants it or not. After twenty years in a loveless marriage to a duplicitous British aristocrat, Claire Heyworth Barnes finds herself broke and alone. Encouraged by her dynamic American sisters-in-law, the shy royal decides to start over in New York City. When she lands a job with a famous interior designer, Claire accidentally reconnects with the first—and only—man she ever loved.
FIRST LOVE…
Benjamin Hayek has never forgiven Claire for the heartless way she left him when they were teenagers in the south of France. And even if he could, Claire's not sure she has the courage to contend with how he makes her feel. Can they build a new love from an old flame? Or will a bitter history and a complicated future stand in their way?