An Honorable Seduction by Brenda Jackson is a sexy and entertaining romance featuring a Navy SEAL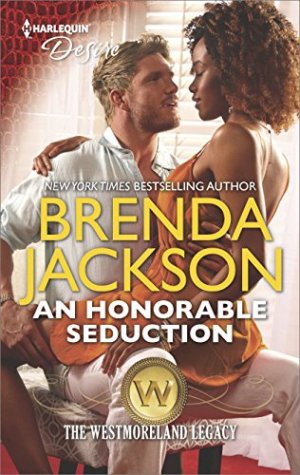 who falls for the woman at the center of his latest assignment. When David Holloway is tasked to find out whether his Commanding Officer's goddaughter Swan Jamison has been trading secret documents with a foreign country, he's ready to take on the mission. In the beautiful Florida Keys, he has an easy excuse to visit Swan's jewelry shop with his mother's birthday coming up, and it's the perfect way to strike up an acquaintance. He just doesn't expect to be so attracted to Swan!
Swan has learned the hard way that men can keep secrets so she's rightfully wary when David seems too good to be true. Handsome, well mannered and friendly, he says he'll be in town for a few weeks only on business and would like to take her out if she's willing. She is, but knows it's best to keep her feelings in check since he won't be around for long. As they spend time together, they indulge in an affair, knowing there is a time limit to their relationship. But when Swan finds out David's true purpose in being there, will it put an end to the real feelings they are developing for each other?
This is my first time reading a Brenda Jackson romance and I definitely plan to pick up more of her backlist! David is a dedicated and conscientious SEAL, so he tries very hard not to lie to Swan when he meets her even as he must keep his true identity a secret to determine if she's guilty of espionage. It becomes clear pretty quickly that she's being set up and there a few possibilities of who is responsible so David must investigate these while developing a friendship, and more with Swan. Because the romance is set in Key West, there is a timely mention of recent hurricane destruction and how that has affected the island and businesses like Swan's.
Swan is half Jamaican on her mother's side. Her grandparents disowned her father when he married her mother, and she's alone with no family to speak of since both her parents have since passed away. Because of this she has some worry as to how David feels about mixed race relationships, and how his parents would react to one (even though she knows it's supposed to be a short term fling). David makes it clear that his family would welcome anyone he brought home with open arms. Plus some of his closest friends (teammates, though he can't tell her that) are black. His sincerity puts Swan at ease, and she finds it harder and harder to keep her feelings about him in check. They share some sexy love scenes that deepen their emotional connection.
From the moment David first sees Swan he's smitten, and when he realizes she's innocent of the charges, he's determined to prove it. There are some action packed scenes and surprises later in the story as the real person responsible for the espionage and framing of Swan is revealed. Swan must decide if what she feels for David can withstand his deception. After a bit of a rough patch they get their well deserved happy ending, and a sweet epilogue. With genuinely likable characters and an interesting plot and setting, An Honorable Seduction is well worth the read.

Book Info:

Publication: May 1, 2018 | Harlequin | The Westmoreland Legacy
This navy SEAL is on a top-secret mission of seduction…
David Holloway is used to hard assignments. Now he faces his most difficult yet: cozying up to the soft curves of Swan Jamison. He wants to know the island beauty…in every way. But romancing Swan as part of his SEAL team's mission tests his honor, even as his feelings become increasingly real. Soon he must make a choice: duty…or desire?