Stripped by Tara Wyatt: Sawyer is a dedicated detective and he loves his job working closely with his team of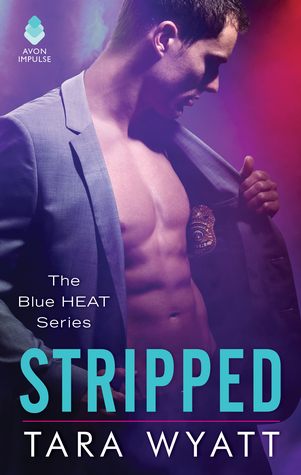 three other detectives in an elite unit of the Atlanta PD. He's sexy, commanding, and single. After losing his best friend and partner, Sawyer is struggling with grief. Throwing himself into work helps and it allows him to channel his feelings into an investigation to get the man responsible for killing his partner.
Brooke loves being a police officer, but she dreams of joining the elite detectives unit. She's smart, savvy, and can hold her own. While she would like to have a relationship at some point, she's committed to her job and she has horrible luck with men.
Brooke is thrilled to get a promotion to detective and to score a spot with one of the H.E.A.T. teams. She knows she's walking into a tricky situation with a fallen partner, but she didn't expect to have her new partner be the sexy one-night stand she can't forget. Brooke and Sawyer don't have a great reunion to say the least.
"Because this one's a bit more sophisticated than the Flintstones car. You know how to start it without scrambling your feet on the ground?"
He grunted and the tiniest smirk pulled at his lips. "Cute. Fine, you want to drive? What's the address of the club?"
Well, shit. She had it in her phone, but hadn't memorized it. When she didn't say anything, his smirk grew. He reached for the door handle, his hand grazing her hip. "Get in the car, Wilma."
Brooke proves to be a great partner and really helpful when Sawyer prepares to go undercover. Both struggle with their chemistry and remaining 100% professional when they can't forget their night together. Brooke is the last person Sawyer would have chosen as his partner, but it gives them time to get to know each other and forge a deeper bond. He loves that she challenges him and understands his job.
"Newsflash: I didn't wear it for you."
"Really? Because this feels like a payback dress."
She arched a brow. "A payback dress?"
"Yeah." He talked in a high-pitched voice. "I'll show that caveman what he's missing." And then he mimed flipping his long hair over his shoulder.
Stripped is a forbidden workplace romance with plenty of suspense. Tara Wyatt developed an engaging story, great chemistry, and banter. Ms. Wyatt provided a strong cast of secondary characters who I'm looking forward to getting to know better in the coming books in this series. Fans of Caisey Quinn and Jennifer Ryan will enjoy Stripped.
Book Info:

Publication: May 15th 2018 | Avon Impulse | Blue HEAT #1
Detective Sawyer Matthews isn't just having a bad day—he's having the worst day. His hunt for the criminal who killed his team member has stalled and now… he's got to play nice with his new, totally unwanted partner. It's not that she isn't qualified, or that he doesn't like her—it's because he knows what she looks like naked. So very, very naked.
Brooke Simmons finally landed her dream job working for H.E.A.T, an elite undercover detective squad, and she's not giving up simply because she had a one-night-stand with her sullen—but undeniably sexy—new partner. They'll just have to keep it professional. Easier said than done, considering their first case requires Sawyer to infiltrate a drug cartel operating out of a male strip show. Watching him do his best Magic Mike impression every night isn't just hot—it's torture.
Sawyer doesn't need any distractions, yet his attraction to Brooke is explosive and he can't resist going for round two. Or three. Or four. But as their investigation progresses and danger mounts, they'll have to put their jobs, hearts, and lives on the line to fight… for each other, for survival, and for justice.