An Unconventional Countess by Jenni Fletcher is the first book in the brand-new Regency Belles of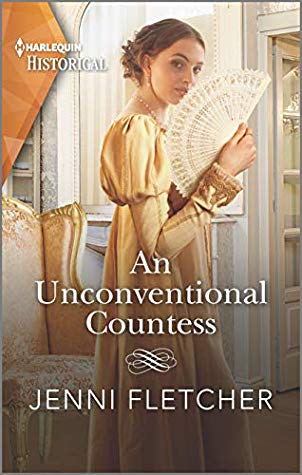 Bath series. The setting of the book is in Bath, London and Belles of Bath was a biscuit shop. The shop was started by the Fortini family and they named the biscuits after their daughter, Annabelle. The book was paced perfectly, the characters were well developed, and the plot was unique and interesting.
Captain Samuel Delaney was on leave from the Navy while he waited to discover if he would inherit the Earl of Staunton title and estates. He yearned for his dead cousin's wife to deliver a baby boy so he could return to sea. Reluctantly, he agreed to help an old friend by distracting Anna so his friend could flirt with her assistant, Henrietta. He regretted his actions later and when his grandmother, Lady Jarrow, started scheming he knew Anna wouldn't want anything to do with him once she learned he might inherit a title. Lady Jarrow's plots for Anna and Samuel to spend time together allowed them to become closer and for romance to bloom.
Annabelle "Anna" did not trust or like the aristocracy. Her mother was the daughter of the Duke of Messingham and had been disowned and shunned by society when she married a footman, Anna's father. She was a strong, independent woman who felt like she had to take over the family business when her father died. She was weary of the gentlemen who came into the shop and flirted with Henrietta. After learning of Samuel's deception, she tried to keep her distance from him, but Lady Jarrow's plots interfered. Could she overcome her prejudice against the aristocracy and marry Samuel if he inherits?
This was a sweet romance and I loved seeing the relationship between Samuel and Anna grow into love. They were charming characters and perfect for each other. They both had insecurities and fears they had to overcome, but they managed too by helping each other. The next book was introduced in the Epilogue, when Sebastian, Anna's brother, returns from sea to find Henrietta and all the changes happening at Belles.
Book Info:

Publication: February 1st 2020 | Harlequin Historical | Belles of Bath #1
From shopkeeper…
To earl's wife!
Part of Regency Belles of Bath. Two things are certain: Annabelle Fortini makes the best biscuits in Bath and Samuel Delaney, the charming bachelor who's just entered her shop, is trouble! Her mother's unfair exile from society has taught Anna aristocrats can't be trusted. Samuel may be a famous naval hero and reluctant heir to an earldom, but Anna can't fall in love with him! Unless she can overcome her pride…and surrender to her heart!