In Just One Year by Penelope Ward, It's said that you should always make a good first impression, but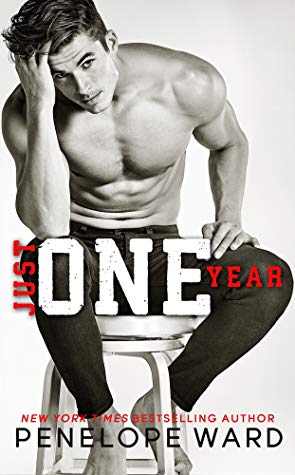 unfortunately for Teagan Carroll, her first meeting with British exchange student Caleb Yates was anything but. In her defense, she had no idea he was the guy who would be staying in her home for a year until *after* he caught Teagan using the men's bathroom when the ladies' was out of order. Not her finest moment. But after the initial stumbling block between them, she realizes Caleb isn't too bad of a guy after all. In fact, Teagan might even be crushing on him just a bit. Or a whole lot. Which is bad news for her heart, considering all Caleb has in one year in the States before he'll be leaving her life for good.
'He was leaving, and he wasn't right for me on paper, yet every moment I was with him felt right, despite the odds stacked against us.'
Spending a year in Boston was supposed to be a positive way for Caleb to not only get some separation from his family issues back home in England, but to also sort his life out a smidge. Gain some direction. He didn't expect that he would grow to adore the Carroll family who takes him in. And Caleb definitely didn't think he'd fall arse over teakettle for Teagan. But that's exactly what happens. Knowing the limited time they have together, he concentrates on growing a lasting friendship with Teagan instead of pursuing a romance with her. At first. Although once Caleb finds out his attraction is reciprocated? He has to have faith that if they are meant to be together, then even an ocean won't be enough to keep them apart.
'This girl–this beautiful woman–breathed life into me every second we were together. I needed to find a way for us to stay together for more than just these next six months. I needed her forever.'
An entertaining, swoony New Adult romance that started with a meet cute in the men's bathroom of all places, Just One Year had oh so many things to enjoy: plenty of laughs, genuine emotions, angst, and interesting backstories.
"You might think you're broken, but you helped put me back together."
Oh my goodness, but I am so in love with Just One Year. As well as with our hero Caleb, who was an old soul with a wicked sense of humor, and our heroine Teagan, who was impressively smart but highly introverted. Penelope Ward started their relationship off with a wee bit of antagonism after that awesomely awkward chance encounter between Teagan and Caleb in the "loo". But it didn't take long for a wonderful friendship to form between the brainiac and the Brit–which then slowly turned into a romance that was everything to them.
There was such a strong pull between Caleb and Teagan. Ward did a fantastic job of building the romantic tension between them while they learned to trust one another. Something neither of them did easily. But once Caleb opened up to Teagan about a tragedy in his past and how it had lasting effects on his relationship with his parents, and she explained why she was so closed off emotionally…wow. We got to see how kind, insightful, and mega sexy Caleb truly was, and how lonely and yet passionate Teagan was. What a combination they made! I adored their fun moments (s'mores!) but it was the depth of Caleb and Teagan's feelings for each other that will make readers sigh happily.
It was a long, sometimes heartbreaking road to happiness in Just One Year, but the stellar ending made every single misstep and subsequent triumph worth it all. Highly recommended.
Book Info:

Publication: Published February 24th 2020 | Penelope Ward Books, Inc. |
From New York Times bestselling author Penelope Ward, comes a new standalone novel.
The beginning of my sophomore year in college was off to a rough start.
On the first day of orientation, I had an altercation with an infuriating British dude in a campus bathroom.
(The ladies' room was out of order. So, I used the men's room. Don't judge.)
I got home later that night and realized that the foreign student we were expecting to rent a room in my parents' house was allergic to our cat.
So, the spare room went to someone else: Caleb—the British guy from the men's room.
And so it began…my love-hate story with Caleb Yates. Or was it hate-love in that order?
The guy knew how to push every one of my buttons.
Sometimes I'd email him to express my aggravation and disdain.
He'd actually rewrite my own words and send them back to me.
That was the type of infuriating person Caleb was.
So frustrating.
And…
Sometimes incredibly funny and endearingly sweet.
And hot.
He eventually grew on me, and Caleb soon became one of my best friends that year.
Too bad he was headed back to England soon, so nothing could happen between us—for so many reasons.
I definitely couldn't fall in love with him, especially since all we had was just one year.