An Unexpected Amish Romance: Patricia Davids has long been one of my favorite Love Inspired authors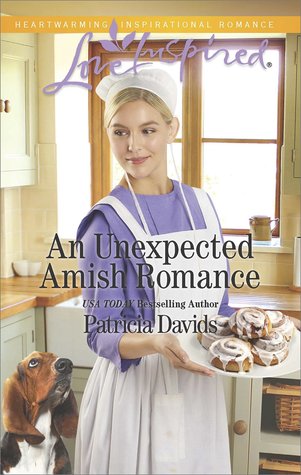 writing about the Amish genre. I am always eager to read a new book of hers.
That being said, An Unexpected Amish Romance was not an easy story to stay absorbed in. On one hand, I enjoyed the opportunity to "revisit"' the Bowman family, and their town of "Bowman's Crossing". On the other hand, Mark and Helen's characters were not easy ones to become attached to until later in the story, when more details about their past lives became available. Mark was striving to do everything in his power to marry for reasons other than love, when the Amish are known to marry for love. And Helen had quite a bit of bitterness to overcome after being jilted by her fiancé in favor of her sister.
A series of misunderstandings repeatedly brings Helen and Mark together, in which they grudgingly find positive traits in one another. Yet both stubbornly resist the possibility of anything flourishing between them as they are set on specific goals for their futures.
To find out where Helen and Mark's gradual yet grudging friendship will lead, pick up a copy of An Unexpected Amish Romance.
Book Info:

Publication: February 20, 2018 | Love Inspired | The Amish Bachelors #5
After a broken engagement, Helen Zook is embracing her independence—starting with a new job working for carpenter Mark Bowman. Sparks fly as Helen immediately butts heads with her handsome yet gruff boss, whose complicated past makes him hesitant to plant roots in Bowmans Crossing. But Helen's eccentric aunt and a matchmaking basset hound have their own plans for Helen and Mark's future…