Medal Up (A Winter Olympics Duology) is two really good novellas in one with Fighting their Attraction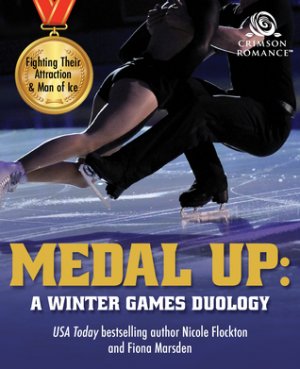 penned by Nicole Flockton and encompassing a snowboarding hero and a figure skating heroine hoping to win gold while as the title says fighting their attraction; while Man of Ice is penned by Fiona Marsden and encompasses a figure skating hero and heroine hoping to medal at the Winter Olympics as partners. Will each of the characters succeed in their endeavour?
What a splendid and compelling read Ms. Flockton has delivered in Fighting their Attraction, which is a story about Brady Thompson, a hero needing forgiveness because of regrets he made in his past that had him abandon good friendships; and Arielle Baldwin, a heroine needing to finally live her life for herself instead of her parents; and two athletes fighting for their dreams while falling in love. Will the pair give each other a chance or is there being together too much of a distraction from their goals for the Olympics?
"Look, I probably should've faced you and Belle a long time ago."
"True. So why now?"
"F*** if I know. Lousy timing. Looks like no matter how much I try, I can't seem to avoid my past."
Both the main characters entertained me from start to finish with their back stories and their growing relationship, as Brady deals with what happened between he and his two best friends in the past and is determined to make amends because it's about time he faced what he did. I also liked how determined the two main characters are to win and how supportive the pair are of each other when it comes to their events. Yet, what I liked most of all about this couple is that they took a chance on each other, even though their focus should be on their events and they don't have time for distractions.

While Man of Ice was such a wonderfully engaging read by Ms. Marsden about Maribelle (Belle), a heroine that has been through so much, but hasn't given up on her skating despite the setbacks she's had after what happened between her and her old partner; and Bohdan, a hero that needs to let go of the past and let someone in because nothing is guaranteed in life, which he knows plenty about with all that he's lost. It's also an emotional story because of the main characters back stories, back stories that have both of them filled with guilt and determined to do their best. Will they be able to win a medal?
"I don't think your parents liked me much."
She grinned and saw his eyes drop to her mouth. "They would like you better if you didn't frown all the time. They thought you didn't like them."
His lips curled in a half smile. "Perhaps we were both operating on a misapprehension. I will try to do better next time."
"Does that mean if I invite you, you'll come?"
Something warm showed in his pale eyes. "If you invite me, I will come." His hand twisted around to clasp hers. "I would like very much to come."
I really liked the main characters in this book because of their back stories, especially the hero, as he doesn't get close to people for fear of losing them. However, I liked that the heroine managed to break down his walls and show him that family is more than blood and that putting his trust in someone – her – is worth everything. I also liked how they worked together as partners, as Bohdan pushes the heroine to be her best and certainly, practice makes perfect. Yet, what I liked most of all about this couple is that they took the risk in changing their platonic partnership into a relationship and I loved what they planned to do after the Olympics.
Overall, both novellas were fantastic reads where both couples had wonderful and intense chemistry; and both stories ended with very deserving happy ever afters for the couples. I would recommend Medal Up by Nicole Flockton and Fiona Marsden, if you enjoy sports romances, especially ones involving sports in the Winter Olympics; or books by authors Sarina Bowen, Kate Meader, Amy Andrews and Lucy Parker.

Book Info:

Publication: February 5th, 2018 | Crimson Romance | A Winter Olympics Duology
Two couples tread on thin ice at the Pyeongchang Winter Games in this captivating duology—but love has Olympic-sized impact on their dreams.
Fighting Their Attraction: Snowboarder Brady Thompson landed in Seoul favored to win elusive gold. But instead of fresh powder, he finds that a past he can't escape is twisting his half-pipe into knots. Figure skater Arielle Baldwin is determined to win a medal so she can walk away from her coach mom's stranglehold on her life. Can a good girl and a bad boy reaching for their dreams make for a dynamic duo?
Man of Ice: How can the Games go so wrong for friendly, upbeat Maybelle Li? Her ex-skating partner is raining on her parade with memories of the past, and her current partner, Bohdan Dovzhenko, is the hottest thing to hit the ice this decade—and the coldest companion. He's all work and no conversation beyond grunts and commands. But as their medal hopes rise, so does Bohdan's word count. He's not made of stone, and being locked outside of Belle's sunshine is simply no fun. Now their growing closeness may be too hot to dismiss—but will it burn down their chance to forge a new future as well?