In An Unexpected Distraction (Richter #3) by Catherine Bybee , Ever since graduating from Richter,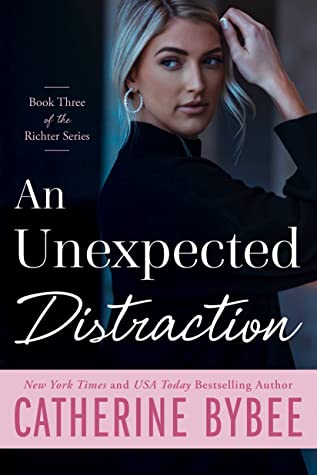 the military school in Germany where she met her best friend Claire, Jacqueline "Jax" Simon has felt at home in California. Most of that comes from working with Claire and the other operatives at MacBain Security and Solutions. The tight-knit group always has her back. Especially when Jax learns of her parents' separation and is forced to go home to London. But not only is her family drama on the rise, there's also the possibility that Richter is reverting to its notorious ways again. This time, Jax is in a position to help the team do the dirty work to keep the students safe, one way or another.
"You know…I thought you were intriguing when I picked you up at the airport. But I didn't realize the level of badass until today."
Jax placed a hand to her chest. "Flattery will get you everywhere."
Andrew Craig was under the impression that picking up Jacqueline from the airport would be a quick errand, leaving him to easily go back to his regularly scheduled life. But one look at the gorgeous woman and he's done. Andrew knows he'll have to find a way to see Jax again. It doesn't prove difficult when they seem to cross paths time and again. The two are soon dating, seeing where their chemistry takes them, even though they live on different continents. Andrew knows it will take some time for Jax to investigate her parents' separation as well as the problems surrounding Richter. And he intends to be there every step of the way, offering support even though he knows Jax can take care of herself, no matter the danger.
'Their lips met for the first time in the middle of a back road after he'd fallen off a bike. And like the first time he'd kissed a girl, this was something Andrew knew he'd never forget.'
Flirty romance and dangerous espionage were a winning combination in Catherine Bybee's thrilling new Richter installment, An Unexpected Distraction. Just when readers didn't think the secrets behind the infamous military school could get any more shocking, along comes Jax's story.
'She'd ask her parents the hard questions. One way or another, Jax would find the answers.'
I was so looking forward to reading all about Jax when I heard she was getting her own book. As an ancillary cast member in previous novels, she intrigued me with her British upbringing and the fact that she never understood why she was sent to Richter. Well, my friends, the answer is in this book. And it's not what I was expecting! It honestly was a bit more involved and much more interesting than the reasons my mind created. (lol) Jax went through the ringer here–emotionally and even physically–but with her inner strength and level head, she proved what a kickass operative she truly was.
Can I just say how much I loved Andrew and Jax as a couple? They were absolutely adorable and so much fun. From their sexy bantering (Bybee is known for her lively banter but she leveled it up a notch for this duo) to their meet-cute that floored me, Jax and Andrew were a match made in heaven. I thought it was interesting how he seemed to be her opposite, where he was a numbers guy who worked in finance and led a rather uneventful life. Whereas Jax jumped out of planes and brought down mob bosses. But they both had a good moral compass and (for the most part) kept their wits about them in a crisis. So they made a solid team.
I do want to note that this can be read as a standalone but if you've been following the series–or any of Bybee's other related series–then I think you'll be knocked out by the level of camaraderie between the MacBain team members. Even with Neil himself, who showed his softer side thanks to a happy event that took place at the end of this story.
An Unexpected Distraction was such an engaging, heartfelt, fast-paced read that I hated to see it end. Catherine Bybee continues to do right by her characters and her loyal fans as we anticipate what book four will bring our way.
QOTD: Jax & Andrew's meet-cute was a surprisingly fun part of their story, which was actually Romantic Suspense. Do you enjoy these types of elements, where an author adds some levity/humor to what could overall be a tense or heavy book?
Book Info:

Publication: November 30th 2021 | Montlake | Richter #3
Family secrets and fresh romance collide in this heart-pounding Richter series installment by New York Times and USA Today bestselling author Catherine Bybee.
Jacqueline "Jax" Simon knows how to expose secrets: she's a skilled operative with MacBain Security and Solutions. When Jax hears her parents are divorcing, she races to London to find out why. She's determined to learn the truth, especially when her investigation uncovers why her parents sent her to Richter, the German military school that made her a fighter.
Andrew Craig collects Jax at Heathrow Airport as a favor. He's heard she's a handful, but he didn't know she's dangerously gorgeous too. His instant attraction could change his life…or end it.
Jax doesn't want to fall for Andrew, but soon he's worming his way into her life. Together, they infiltrate Richter to discover if it has returned to its covert purpose: training children to be spies and assassins and blackmailing parents to look the other way. As the attraction between the two intensifies, so do the secrets exploding all around them. How deadly are those secrets—and who will survive?