Anchored Hearts by Priscilla Oliveras: Anamaría has had her heart broken just once and she sure as hell did not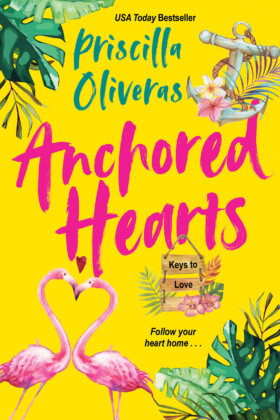 plan on coming face to face with the guy who crushed her young heart, but as luck would have it and the will of a meddlesome mother Anamaría finds herself exactly where she did not want to be, meeting Alejandro Miranda. You see Anamaría and Alejandro used to date back in high school and had these big plans of travelling the world exploring all the hidden treasures, however when Anamaría makes the hard choice of staying home to help care for her father who is recovering from a major heart attack, Alejandro just ups and leaves her going on the trip that they had planned together.
The last thing Alejandro wanted was to return home but with his injury needing a few months to fully recover he has no choice to face all the family drama and to face the girl that he left behind. The help of some meddlesome mothers Alejandro and Anamaría find themselves back in each other's lives and one thing has definitely not changed; their attraction to each other. But with hurt feelings and bruised hearts will these two be able to find their way back to each other and most importantly learn to trust again?
This was definitely a cute second chance romance mixed in with some amazing description of Key West. Alejandro and Anamaría are the best examples of how bad communication can spiral majorly out of control, but in a way it did help both of them grow and mature into their own people rather than two kids in love.
Now I will be honest Alejandro was not my favorite hero but he did have his moments. I just found that he held onto petty things and was a bit selfish to expect Anamaría to leave her family right after her father almost died, then to get upset with her that she wouldn't ran away with him. I will say that his family situation was very different to that of Anamaría's close knit family, his father was an absolute nightmare forcing him into the family business even though he clearly did not like it. Where as Anamaría was an absolute sweetheart, I loved the relationship that she had with her family and how they supported her in all of her dreams and personal journeys.
Once again it was a treat to get to see the Cuban culture come through so loud and proud. This was a true slow burn romance with the romance only really kicking in halfway through the book, if anything Alejandro and Anamaría were the embodiment of right person but at the wrong time.
I didn't not love Anchored Hearts as much as I loved Island Affair but in saying this Oliveras still delivers a beautifully picturesque look into life in a Latinx family in the beautiful Key West!
QOTD: Do you believe in second chance romances?
Book Info:

Publication: April 27th 2021 | Zebra | Keys to Love #2
Award-winning photographer Alejandro Miranda hasn't been home to Key West in years–not since he left to explore broader horizons with his papi's warning echoing in his ears. He wouldn't be heading there now if it wasn't for an injury requiring months of recuperation. The drama of a prodigal son returning to his familia is bad enough, but coming home to the island paradise also means coming face to face with the girl he left behind–the one who was supposed to be by his side all along…
Anamaría Navarro was shattered when Alejandro took off without her. Traveling the world was their plan, not just his. But after her father's heart attack, there was no way she could leave–not even for the man she loved. Now ensconced in the family trade as a firefighter and paramedic, with a side hustle as a personal trainer, Anamaría is dismayed that just the sight of Alejandro is enough to rekindle the flame she's worked years to put out. And as motherly meddling pushes them together, the heat of their attraction only climbs higher. Can they learn to trust again, before the Key West sun sets on their chance at happiness?