And I Love Her (Green Mountain #4) by Marie Force: Megan and Nina are incredibly close as sisters, so Megan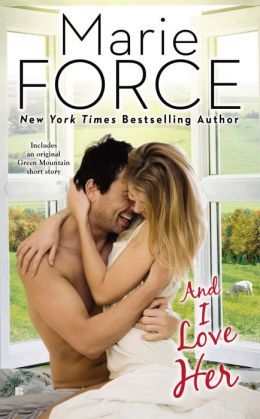 is understandably upset when she learns that Nina plans to move to France with her husband and soon. Megan has relied upon Nina ever since they lost their parents a while ago. She's been drifting through life and closed herself off to any potential relationships.
Hunter is the oldest of the Abbot siblings and he's the CFO of the family business. Hunter is a great catch; he's sexy, charming, well-dressed, funny, generous, selfless, and very close to his family. He's not a risk-taker, but he finds that pursuing Megan just might be the one risk he has to take. He's sat by the sidelines for years while she had a crush on his younger brother, but now is his chance to get the girl with Will happily paired off with Cameron.
What Megan didn't expect was to run into Hunter while she's falling apart over the news of Nina's impending departure and possible job loss. Megan is a waitress at the diner Nina owns and runs. Since Hunter has loved Megan for years, he immediately steps in to comfort her. Hunter really was never on Megan's radar until he held her. Suddenly, she's attracted to the hottest bachelor in town.
"I figured you'd have this evening planned down to the last minute."
"Usually I would, but tonight I wanted to do something different and be more spontaneous."
"Spontaneous. Is that painful for you?"
"Why do I have a feeling you're making fun of me?"
"I would never do that."
While Hunter is just so capable in every aspect of his life, it's highly entertaining to see him so flustered around Megan. She's so important to him, so he feels the pressure to get it right. Megan struggles to understand why Hunter would be attracted to her and isn't sure she is capable of dealing with a serious relationship. Hunter has paid attention over the years, so he truly understands her. They have great chemistry and banter.
"I cook, I bake and I iron. Got anything to say about that?"
"Um, nothing other than can you bake me chocolate chip cookies?"
"Please," he said with a scoff. "I could do that by the time I was eight."
"I'll confess to being around by this information."
And I Love Her is a funny, sweet, and sexy romance with plenty of well-meaning but interfering family members. While this is part of the Green Mountain series, you can read And I Love Her as a standalone. Marie Force creates two characters in Hunter and Megan who are stuck in their routines and need to make some changes. Ms. Force also skillfully brought in other members of the Abbot family and showed snippets of their own storylines to advance the overall series.Fans of Jill Shalvis and Susan Mallory will enjoy this contemporary small town romance.
Book Info:

Published March 3rd 2015 by Berkley | (Green Mountain #4)
As the oldest of the ten Abbott siblings, Hunter prides himself on his ability to solve other people's problems, but now he has a problem of his own—how to convince the woman of his dreams that his love is for keeps.
As the chief financial officer, Hunter Abbott manages the family's various business interests while "fixing" things for the people he loves. But the one thing he can't fix is his undeniable attraction to Megan Kane. Instead, Hunter is prepared to do whatever it takes to show Megan that he's the man for her.
Megan's sister rocks her with the news that she and her husband are moving overseas, leaving Megan truly alone. With her sister—and her job at the diner—going away, Megan finds herself leaning on the sexy, button-down accountant who isn't afraid to lay it all on the line for her. But Megan has watched too many people she loves leave her. Can she risk her heart on Hunter?
Contains a bonus Green Mountain short story!