Cupcakes And Crushes (Turtle Pine, #1) by Keri Ford: This is a quick, funny, sweet read that will keep you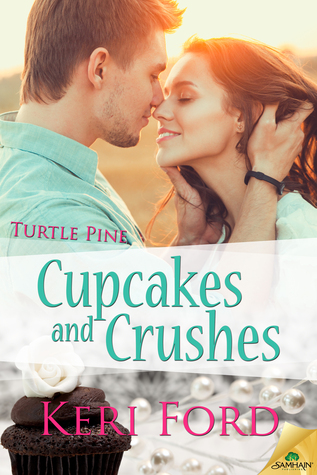 laughing, and at time, have you tearing up a little, but in the end you will cheer at the HEA for Annie Cookie and Cade Revlin.
Annie Cookie left the little town of Turtle Pines to get away from her mean step sister Jane and Tina. They have always treated her badly, blaming her for the break up of their parents marriage and in the end their mothers death, but the biggest hurt came when Jane stole Annie's boyfriend Peter. Twelve years later Annie is called back to Turtle Pines by her grandmother, she is asked to help out at the bakery due to her grandfather breaking his wrist. There are 700 cupcakes in need of baking and a wedding cake, (Annie doesn't know it yet) for her sister Jane's wedding to Peter. Agreeing to make the cupcakes, but refusing to make Jane's wedding cake, Annie want nothing more then to get out of town as fast as she can, and without a confrontation with Jane or Tina. What she doesn't expect is the sparks and the feelings that seem to simmer everytime the very hot, very sexy, very single Cade Revlin is around.
Cade has been in love with Annie since they were in high school, but she was off limits and his brother's girlfriend. Once Peter dumped Annie for Jane, Cade could never find the courage to approach Annie, let alone talk to her. Then she was gone. Well now that she is back in town, he has one week to convince Annie to stop running and to give Turtle Pine and him a chance to make all her dreams come true.
I loved the interaction with Annie and Cade. They had that instant spark. Even though the book was a bit short and a really fast read, you learned a lot about these two in a very short amount of time. Annie's grandparents were laugh out loud funny and Cade's niece was a hoot. I loved the family interaction between Cade's family and Annie. I don't want to give too much away, but watch for sparks to fly when Annie finally comes face to face with Tina and some shocking news when she and Jane finally clear the air.
I would recommend this book to anyone looking for a sweet and delightful quick weekend read. I look forward to revisiting Turtle Pines and these characters in future books.
Book Info:

Publication: April 14th 2015 Samhain Publishing, Ltd.
Sometimes there is enough sweet to make up for the bitter.
Turtle Pine, Book 1
Years ago, a broken heart sent Annie Cookie running from home, and she's never looked back—until now. Her grandpa's broken wrist means the family bakery is at risk of losing two big orders.
Reluctantly, Annie returns to Turtle Pine to help out, only to discover it's not just seven hundred cupcakes she has to bake, but also a wedding cake for the half-sister who stole her high-school sweetheart. Annie left town to get away from her sister. No way is she getting mixed up with her again. Once the cupcakes are done, she's outta there.
Back in high school, Cade Revlin hid his crush on his brother's girl, but when his brother dumped Annie for another Cookie sister, Annie slipped through his fingers and out of town. Now that she's back, he's determined to give her a reason to stay.
He's got one week to change her mind. Or she'll be gone in a cloud of powdered sugar.
Warning: Contains small-town meddling, family drama and all the necessary ingredients for a second chance at love—if they have the guts to turn up the heat.