Aleatha Romig's lighter side shines in Another One, a sexy, sweet and fun second-chance romance. Trevor and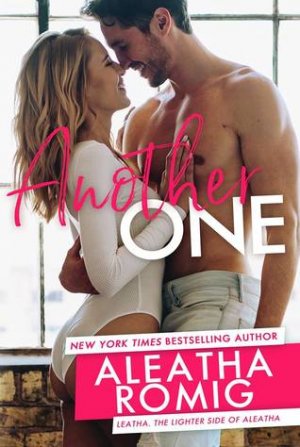 Shana are star-crossed could-be-lovers when they meet at his brother-in-law and her best friend's wedding. She lives in London, and he lives on the West coast; therefore, starting a relationship after meeting once seems futile, no matter how drawn to each other they are. They go their separate ways and eventually fall out of touch, but the flame still burns between them.
Now, they are both in New York, and neither have been able to forget the other. Trevor realizes he made a mistake not pursuing Shana, and he's committed to rectifying his error. He is absolutely swoony as he woos her, and they are electric together. But Shana is under enormous pressure from her job and might be in the U.S. only temporarily. They fall head over heels in a slow-burn fashion but will have to decide if their burgeoning relationship can possibly survive a long distance separation.
As I said, Trevor is pretty dreamy, and he'll be on many a book boyfriend list in 2018. Another One is a quick and entertaining romance with tender and steamy elements, and it is sure to satisfy.
Book Info:

Publication: 5/15/18 | Self-Published – Aleatha Romig | Lighter Ones #2
*Shana*
Trevor Willis is sexy, sweet, and oh so fun. He's also my best friend's brother-in-law. That should mean he's off-limits, or that I should be off-limits to him.
Someone probably should have told us that before my best friend married his brother, before the morning of the wedding when we woke in each other's arms with gaping holes in my memory.
They didn't.
We did.
The hilarious truth behind our crazy, secret adventure secured this handsome, off-limits man in my heart. But alas, life goes on. After our one secret night, we went back to our lives—our hardworking, solitary lives.
And then it happened.
My phone began to buzz. Each night with thousands of miles between us, we laughed, talked, and shared. And then, the phone stopped ringing.
Before it did, I knew one thing…
Our secret one had bloomed and blossomed, and now that our circumstances have changed I want another one!
*Trevor*
Shana Price is that one woman. You know, the one who suddenly makes the world more than a place to work, but also a place to live. Usually shy and awkward, in her presence I want to be more—I am more. I don't even have to try.
She's my one. I knew it the moment I first met her. What followed simply confirmed it.
The problem is the little hassle of the thousands of miles between us.
I tried to make it work, but each phone call made it harder. (Yes, that is a pun) I couldn't take it any more—and she became the one who got away.
Now, everything has changed.
Shana is back in the United States—all I have to do is make her see that her job isn't the only reason to stay.
That shouldn't be a problem, right?
From a secret one to another one!