Can't Fight the Feeling by Sandy James: Russ is happy to be part owner of a successful bar in Nashville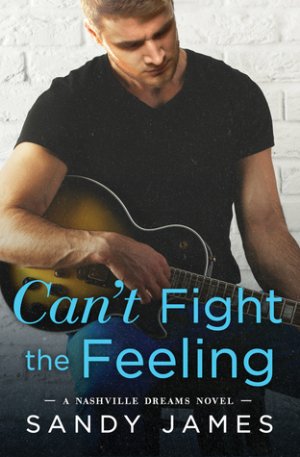 after an injury forced him out of the NFL. He's sexy, a loyal son, and struggling a bit. He's working all the time and prone to help out as a bouncer when the mood strikes. He helps out his parents, as much as they will let him. He's definitely not even thinking about a relationship.
Josslyn is a smart and dedicated nurse practitioner. She enjoys helping others, but she tends to keep her emotions under lock and key in part since that helps her at work. She's very independent and wary of ever being tied down in a relationship, especially since she doesn't believe in love.
Russ and Josslyn have mutual friends who have been trying to act as matchmakers for a while now. Russ has tried to avoid Josslyn due to said efforts, but he is happy to see her when he lands in her ER. She takes great care of him and being around her brings back the attraction he's felt for some time now. It's Josslyn who initiates their first date and both are surprised by just how well it goes.
"I'm not about to prove it."
"Why not?"
"Because I'd like to go on a second date with you."
"And you think if I heard you sing I'd refuse?" she asked.
"Absolutely."
Russ is a true gentleman and he knows that there is more between them than a one night stand or a fling, but convincing Josslyn of that is another story. Both have their baggage and reasons for why they haven't pursued relationships before, but it seems so easy for them to be together. They have great chemistry and Josslyn is giving him the push he needs.
"What did you figure out?"
"That yoga just isn't going to work for you."
He threw his hands in the air and let out a cheer. "Thank you, God!"
Joslynn laughed. "Yeah, I was a little slow on the uptake with that one. Sorry. I was hoping you'd learn to love it."
Can't Fight the Feeling is sweet, sexy, and heartwarming. Sandy James provides a good balance of the romance with character development and the fun moments with more serious ones. Ms. James brings family and friends who have your back and force you to think differently. Can't Fight the Feeling can easily be read as a standalone in the Nashville Dreams series. Fans of Terri Osburn and LuAnn McLane will enjoy Can't Fight the Feeling.
Book Info:

Publication: May 8th 2018 | Forever Yours | Nashville Dreams #3
In Nashville the men are strong, the women are bold, and love comes to those willing to fight for it.
Russ Green is an expert at keeping people out – physically and emotionally. After a career-ending injury, the former quarterback was lucky to find a place as a bouncer at Words & Music. All he wants to do now is stay out of the limelight – alone. With his background, he's nobody's Prince Charming. His life is routine, and he likes it that way. Gym, work, home. No surprises. Until a bar brawl lands him in the emergency room, and in some very capable hands…
Nurse Joslynn Wright found her calling during a childhood bout of leukemia. While the fast-paced ER keeps her adrenaline pumping, it's nothing compared to being with Russ. Her illness made her cautious, though, and Russ's closed-off nature certainly doesn't make things any easier. But she can't help being intrigued by the contradiction of a burly bouncer who can gently strum a guitar. If she's learned anything in Nashville, it's that love may take work, but the rewards can be well worth the effort…
The Nashville Dreams series: Can't Walk Away, Can't Let Her Go, Can't Fight the Feeling