In Any Day Now (SWAT Generation 2.0 #8) by Lani Lynn Vale, Working towards her master's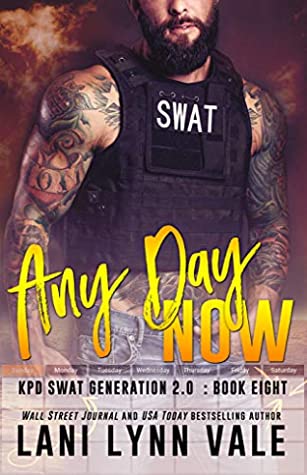 degree and holding down a job keeps Amelia insanely busy on a good day. So when her close friend Avery asks her to do a "stranger photo shoot" during her limited free time? Um, no thanks. But somehow Amelia gets talked into it anyway. And wow is she glad she did when she gets a look at the stranger she'll be spending close time with that morning. SWAT team member Adam is the finest looking man Amelia's ever seen. And he proves to be just as nice, too. It doesn't take long before the attraction she feels for him turns into a full-fledged romance–but just at the worst time, when Amelia finds herself in harm's way.
"I can't stop thinking about you. When I'm at work. At school. At home in bed. It doesn't matter where I'm at, I just can't let this go. I have to see where it leads."
When Adam was asked to pose for the benefit calendar a while back, he didn't realize what a big deal it would be. Or that he'd be asked to pose yet again–this time with a complete stranger. He'd never even heard of such a photo shoot. And to be honest, Adam almost backs out of it until he lays eyes on Amelia. Then all bets are off. He'll do whatever it takes to spend some time with the gorgeous woman, especially if it means seeing her beautiful smile. When Adam plans to continue their time together after the photo shoot, things look promising. Until some new-to-town hot shot starts causing problems for Amelia. That's when Adam steps up to keep his woman safe, so they can hopefully have a lifetime of laughter to look forward to together.
'I may have known her for a very short period of time, but I knew in that instant that she was going to be it for me.'
You can always count on Lani Lynn Vale to bring the sexy and the humor in her stories and that's exactly what Any Day Now did. From our adorable couple's meet-cute to the whole heap of trouble they got into together, this was one wild ride.
"You stood up to my father," she said.
I shrugged. "I'd do just about anything for you, Amelia Mackenzie. And standing up to your dad because I want to stay at your side? That's nothing."
How fun of a premise is a "stranger photo shoot" for kicking off a romance, right? I think Vale delivered on the idea and put her own unique (read: hella sexy) spin on it when she threw Amelia and Adam together. They clicked right from the start. And I loved their shared sense of humor as well as their mostly sunny outlook on things. The story didn't go way down deep emotionally, but the characters and their connection made up for it. I do admit that I almost gave this a 3.5 star rating because it did kind of follow the mold of the other SWAT books I've read, but it was just so darn enjoyable that I had to give it 4 stars.
The arrival of someone famous to town was the catalyst for most of Amelia's problems. I have to give her credit for holding her head high and trying to handle her issues on her own instead of dragging Adam or her family into it–not that they listened. And that's where we got to see Adam in all his protective alpha glory. He was a sweetheart of a guy normally but boy he didn't like to see Amelia being hurt or threatened in any way. *sigh* Actually, neither did the rest of the SWAT members or her father and brothers. Speaking of Amelia's infamous father, Silas, there was a passage from his POV at the end that was quite interesting and shed some light on his life and what he was currently involved in…
If you're looking for a smoking hot, fast-paced romance that is lighthearted overall and will keep you smiling the whole time, Any Day Now is just the book for you.

Book Info:

Publication: Expected publication: August 11th 2020 | by Lani Lynn Vale | SWAT Generation 2.0 #8
Amelia loves her good friend, Avery. So much so that she agrees to do the stupidest thing ever.
A stranger photo shoot.
You know the type. The photographer takes photos of two individuals. Two individuals that, until that day, have never met in their life.
The moment she shows up at the photo shoot, she knows that she made a terrible decision.
Why? Because the total stranger about to be in an intimate photo shoot with her is the hottest thing that's ever walked the streets of Kilgore, Texas. If not the entire US of A.
***
Adam wasn't sure why the hell he agreed to something so stupid.
Call it temporary lapse of sanity.
When the photographer who shot his photo for the Kilgore Police Department's benefit calendar asked him for a favor, he couldn't say no. Not without looking like a jerk seeing as it was benefiting the Fallen Officer Foundation that he played a rather large part in.
Whatever it was that made him agree, he quickly realizes that it's not worth it. Not when he walks into the studio and sees the massive bed with blood-red sheets dominating the middle of the room.
So uncomfortable he is at the sight, he's about to head straight out the door and not look back when she walks in.
Amelia steals his breath away with just one glance, and all of a sudden, getting this stranger into his arms with his mouth on hers sounds like the best idea ever.