In Anything But Love by Beth Ciotta, it is nearing Christmas and Luke is feeling anything but festive. He's not really sure why, and he's really trying…but it all seems to center around Rachel. The mousy young woman who lived and worked in Sugar Creek for a year then one day just up and left with no word to anyone. After Luke's cousin Sam, who has been pursuing Rachel, caught them in a hot embrace. Things have been strained between Sam and Luke since. Sam was attracted to Rachel, he thought she would make a good wife and a good mother to his two daughters. Luke was attracted to Rachel also…but he's not quite sure what it is about her that draws him…she's not his usual type.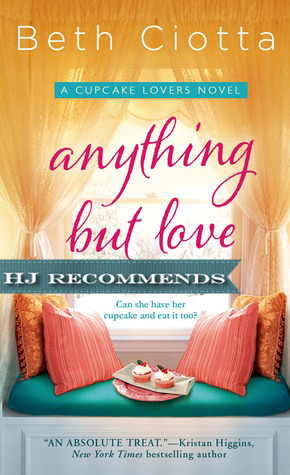 Luke can't let Rachel go and hires his soon to be brother in law Jayce to find her. When Jayce does find her, they discover Rachel is not at all who she claimed to be while living in Sugar Creek. She is full of secrets she's not so ready to reveal, even when Luke goes to her, finding out Rachel is really Rae. A passionate encounter, ending poorly sends Luke back to Sugar Creek just as confused as before, hurt, and a little angry. When Rae shows up in Sugar Creek again, hoping she'll be welcomed again, she has a plan and yet another secret. One Luke isn't quite ready to deal with.
Luke can't stay away from Rae and Rae can't seem to stay away from Luke despite everyones warnings that he's a playboy and will never settle down. But the more time they spend together, the more Luke finds himself wanting to settle down. Can Luke have more than a temporary relationship with Rae? Can Rae trust Luke with not only her heart and her future, but with her secrets? They work so well together sexually, but can they work just as well together as a couple?
Both Luke and Rae have a lot of family issues going on, even if they are very different issues. They come from different backgrounds, but have found a common ground in each other if they can only trust in that. As they struggle to make a relationship work, they will see each has so much to offer the other and sometimes love happens when you least expect it. Luke and Rae are both very strong, independent, stubborn people! I really liked Luke, he is who he is and he doesn't hide anything. He is always thinking of others, and has a strong relationship with his family. He can also be very protective! Rae was a lot harder for me to like. She added a lot of depth and emotion to Anything But Love just by herself. Although she was returning to Sugar Creek with a purpose and a business plan, I felt that she was somewhat selfish no matter how she tried to justify things. She had a hard time seeing outside of her own world, and I found that she really lacked an insight into other people's feelings. Rae did grow on me, and I loved the role she played in Anything But Love even if she isn't my favorite heroine. I truly think that when an author like Beth can make you feel such strong emotions about a character, she has done a fantastic job of writing!
When Luke and Rae both have family issues come up that are serious and heart breaking, they are able to find strength and support in each other both as friends and lovers.
I loved the side story of Sam, Luke's cousin. I think he has a lot going on, and I really, really hope that we get more of his story and that he can find a happily ever after…his is one that will definitely be worth reading I think!
Anything But Love is a very well written, romantic, laugh out loud (which I did at times, much to the embarrassment of my daughter!) story that will pull you in and make you feel like you are part of the Sugar Creek community. Although this is the third book in this series, it can definitely be read as a stand alone. I highly recommend the others though because they were just as great as this one! Beth brings all of the characters to life, from the primary characters right through all of the secondary characters. I really enjoyed seeing the people from the first two books in Anything But Love. All of their stories are woven together with romance, love, and friendship.
I would highly recommend Anything But Love to any romance reader – you won't be disappointed!
Book Info:

 HJ Recommends
Published October 1st 2013 by St. Martin's Paperbacks | Series: Cupcake Lovers #3
LOVE IS SWEET…
For Reagan Deveraux, Sugar Creek, Vermont, and the Cupcake Lovers are a dream come true: A cozy little town where family and friends come before everything else. She's never experienced anything like it—especially not growing up with her mother, a fickle, fame-hungry heiress. But Rae's plan to hide out in anonymity for a year until she can claim her inheritance—and her independence—changes with one kiss from gorgeous pub owner Luke Monroe.
UNTIL YOU SPICE IT UP…
Luke's charm is legendary, but he's never been a one-woman man. Until Rae captures his attention, that is, and then disappears. With a little help from a friend, Luke tracks her down—and unearths secrets almost too wild to be true, as well as the fact that Rae lied to him, and to all of Sugar Creek. Luke's not sure if he can forgive her, but he definitely can't forget her, and when she returns to save the Cupcake Lovers from disaster, he knows it's his chance to get the truth—and get the girl, this time for good…