Snowbound with the CEO by Shannon Stacey: From the moment Rachel Carter joined Blackstone Historical Renovations over five years ago, she new her professional life was going places. She worked her way up from the mail-room, determined to make a success of herself. For a little over a year now, she has been the CEO's executive assistant, thriving on the accountability and responsibility that her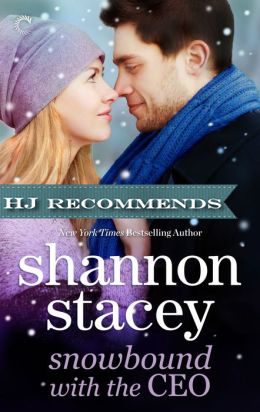 position provides. Working very closely with her boss everyday is an added bonus, since she secretly lusts after him. The only thing missing from her life is love.
Adrian Blackstone built his business from the ground up. As a result of his sound work ethic and perseverance, his renovation company is flourishing and is worth millions. Adrian realizes that Rachel's business acumen is a big part of his success, and he could not run his business without her. However, Adrian wants more from Rachel than just her business expertise, he wants her in his bed.
Rachel and Adrian work very well together, like a well-oiled machine and she often travels with him to meet new clients. On this particular trip, the inclement weather prevents the client from getting in.
There has always been an unspoken chemistry between Rachel and Adrian, and due to professional reasons, they never acted upon their attraction. But being snowbound for the weekend causes their unrequited passion to ignite and consequently, they forge forward with great conversation and mind-blowing sex. Unfortunately, come Monday morning, they both return to their professional selves, due to misinterpreting each others' actions and words.
With a little push from Adrian's parents and the magic of the holiday season, Rachel and Adrien can look forward to the next snowstorm.
I loved this sweet and passionate novella. The story is so good and well written, I could not put it down. Ms. Stacey combines the perfect balance of romance, love and angst to create a sexy and enjoyable read. You will never be disappointed by reading anything Ms. Stacey authors, only happy, happy, happy!
Book Info:

 HJ Recommends
Expected publication: November 4th 2013 by Carina Press
Adrian Blackstone built a million-dollar business with hard work and determination—and by remaining professional at all times. Denying his longtime attraction to his beautiful executive assistant hasn't been easy but it's necessary. She's indispensable, and he can't stand the thought of losing her if things didn't work out.
For more than a year, Rachel Carter has been quietly dreaming of all the ways she'll never seduce her sexy, buttoned-up boss. She's worked too hard to get where she is to cross that line, no matter how badly she'd like to act on her fantasies. But then a wicked snowstorm leaves them stranded in a romantic winter wonderland…
What begins as a single kiss and a few bad Santa jokes turns into a weekend full of breathless passion and hopes for something more. But with Monday comes a return to their complicated reality—and Adrian must prove that promises made are promises kept, especially at Christmastime.