In Gold Coast Angels: Two Tiny Heartbeats by Fiona McArthur, Midwife Lucy Palmer discovers she is pregnant on the first day of her new job and that too when her gorgeous new colleague Nikolai Kefes suggests her a pregnancy test and scan. Lucy never expected that her only one night stand on her graduation day would have such drastic consequences but after watching two tiny heartbeats on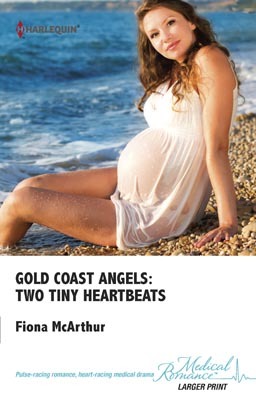 the monitor, she falls in love with her unborn babies and resolves to focus everything on her babies. Distraction is not an luxury she can afford but her inconvenient attraction to a sexy obstetrician is weakening her resolve to stay focussed.
She had been fighting against the dream, fighting against the taboos of
falling for a man who wouldn't be there for her always, but it was too late.
She loved him for what he'd done for her, loved him for looking after her
babies, loved him even when he undermined her independence, even loved it
that he was so confused about his own feelings for her—but that didn't mean
he loved her
Two Tiny Heartbeats is a well written novel with an unconventional plot of a heroine pregnant by someone else and a hero who loves and accepts her nevertheless. The romance was based on emotions and conversations rather than passion or chemistry. The steam was also non existent because the romance was more on the emotional side.
The characters were normal and I did not find anything striking about them. I could not get Lucy and her refusal to take any money from the father of her babies because he was her friend was not justified according to me. Whatever problems they had were resolved quietly without any drama.The conversations between Lucy and Nikolai were good but my attention kept on wavering due to the lack of action from either side.
So, after a timeless journey of sensation, intoxicating kisses and the
tender wonder of this woman's beautiful body, Nick drew back. Shuddered
the demons back into their boxes and stilled his hand
Overall Two Tiny Heartbeats is a well written, fast paced story with a strong narration but with not so engaging characters and lack of drama, the story fails to make an impact. Recommended for Fiona McArthur fans and the readers who want a romance based more on conversations.
Book Info:

Published October 2013 by Harlequin Medical Romances | Series: Gold Coast Angels
First-day baby bombshell!
Discovering she's pregnant—with twins!—is not how midwife Lucy Palmer imagined her first day in her new job. Worse is that it took her gorgeous new colleague Nikolai Kefes to suggest a pregnancy test and scan. As they watch those tiny heartbeats on the monitor, Lucy knows instantly that her two little babies are the only things she can focus on. And that her highly inconvenient attraction to the hunky Greek obstetrician—with his legendary reputation for short, sweet, emotionally unavailable relationships—definitely has to be ignored…!