In Archangel's Legion (Guild Hunter #6) by Nalini Singh, Archangel Raphael has been alive for eons and is the protector who rules over what is now known as New York. Having only recently found his soul mate, his consort Elena Deveraux, Raphael is slowly learning how powerful love can be. Theirs is a fierce love with an intense bond formed between them, which ultimately is feared by some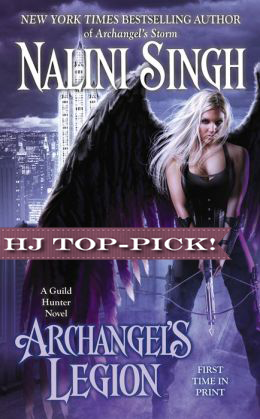 and celebrated by others. Their bond could prove to be the link that helps him save his city from an unknown attacker when angels begin to fall from the sky. The Falling, as it comes to be known, lasted for less than ten minutes, but took precious lives and injured many. Raphael is unsure if the event is due to the first Cascade in centuries, a shift in power and Archangel's abilities, or if it is a direct threat aimed at him. He has noticed changes in himself already as he grows stronger and his powers begin to change with each strange event. Raphael feels a coldness and distance building within him but he can feel also feel the depth of power he could have if he allows it to take hold. Elena is the anchor that keeps him from giving in to the darkness and instead, holding on to the bit of humanity she brought into his life.
"Lijuan warned Raphael I'd make him a little bit mortal."
"You have." Quiet equanimity. "And you worry you've weakened him. You have."
Elena flinched.
"Elena." Shaking his head, Keir waited until she met his gaze again. "Even an archangel needs a weakness–absolute power is a corruption. Of that, Lijuan is the perfect example."
Guild Hunter Elena Deveraux is still getting accustomed to her growing power as a new immortal and in becoming Raphael's consort. She wouldn't have believed just a few years ago that she would be the mate of an Archangel but she cannot deny the power of the love between them. With her beloved Manhattan potentially under attack, Elena is torn between her instinct to fight against their enemy, and her fear of losing Raphael to the dark power trying to take him over. She strikes to find a balance between her hunter-born ways and her position of being consort to an Archangel. Their world gets turned upside down as they search for answers to the strange threats against angels and vampires. Elena digs deep to find the courage to move forward in the face of danger, knowing it may not be quite enough to overthrow the evil they are battling.
"Far as I'm concerned," Elena bit out, "if the Falling was a planned attack, it wasn't clever but cowardly. Murder from a distance."
Words he'd expect from a warrior.
A fleeting kiss, her weapon-roughened fingertips on his cheek. "I won't be late."
He watched her leave in a sweep of midnight and dawn, her wings unlike any other, and he knew he'd damn his own honor and take vengeance on the world should anyone dare lay a finger on her.
Together Raphael and Elena must figure out which Archangel is behind the attacks and which can be trusted as an ally. The immortals of New York and beyond are called upon to join forces and wage a battle that may end with much bloodshed. But will there be enough time and manpower to defeat those that are using their power to enslave mortals for their own personal gain?
Nalini Singh has written an epic, complex story full of love, complicated emotions and painful lessons. Lush with incredible details, there are moments of passion and of humor, as well as philosophical discussions and strategies of war. There are a lot of secondary characters to this story which would perhaps make it a bit hard to follow if you haven't entered the Guild Hunter world before, but it is possible to enjoy as a stand alone if you just keep reading and be a bit patient learning the intricacies. I fell in love all over again with Elena and Raphael. Elena is so fierce and strong…all badass and full of sarcasm but protective of those she loves. Raphael is absolutely powerful. He loves Elena as he has no other before and he watches over his people with a keen eye to keep them safe at all costs. I seriously can't recommend this book enough. If you love paranormal romance that whisks you away to another world, look no further than Archangel's Legion.
Book Info:

HJ Top Pick!
Publisher: Jove (October 29, 2013) | Series: Guild Hunter #6
Nalini Singh, the New York Times bestselling "alpha author of paranormal romance" (Booklist) returns to an immortal world of violent passion and lethal power…on the brink of a deadly archangelic war.
Angels are falling from the sky in New York, struck down by a vicious, unknown force.
Vampires are dying impossibly of disease.
Guild hunter Elena Deveraux and the Archangel Raphael must discover the source of the wave of death before it engulfs their city and their people, leaving New York a ruin and Raphael's Tower under siege by enemy archangels.
Yet even as they fight desperately to save the city, an even darker force is stirring, its chill eyes trained on New York…and on Raphael. Rivers of crimson and nightmares given flesh, the world will never again be the same…