In Seducing Phoebe by Nicole Flockton, Phoebe Fiztgerald is about to get married to a wonderful man, unfortunately weeks before the wedding her ex turns up asking for a second chance and declaring his undying love. Now Phoebe is really confused on what to do, she remembers what she had with John as fun and nice, but she can't forget the heartbreak and disillusionment she felt when he just decided to leave the country and her behind without a second thought. With Marco she is happy, but she feels there is something missing.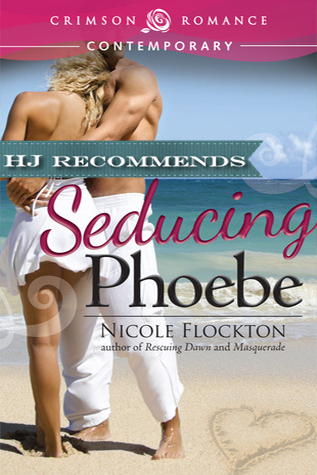 Since the first moment Marco Petronelli met Phoebe he knew that he wanted Phoebe but he would have to bid his time since she was still with John, a man known as a player and someone that would not commit. So when John left Phoebe Marco knew it was time to make his move, and after he and Phoebe became the Godparents of Sophie's baby, Marco did his best to persuade her to accept him. When Phoebe breaks off their engagement, Marco knows that he will have to do whatever possible to convince Phoebe to get back with him, but first he must give her a day or two to cool off before he tried to persuade her to his way of thinking.
Now Phoebe has gone to Sophie's father's beach house for a long stay to make up her mind about what she wants to do with her life. She needs to decide what she wants without the influence of either John's calls and texts or the chemistry she shares with Marco. But two days into her stay at the beach house Marco shows up! She can't believe that Sophie would betray her and tell him her whereabouts, but unless he had her followed how did he know? What she doesn't remember was the app they both downloaded so they could know where the other was at all times to make sure they were safe.
Now with Marco staying close and unwilling to leave Phoebe will have a harder time making up her mind. Phoebe can't deny being a little glad that he is there. Even if his touch doesn't let her think of anything other than being with him once more again and again. But first they must find where the holes are in their relationship that caused her to have any doubts before they can move forward. And to begin they will both have to open up about their pasts and the things they have not told anyone but their best friends.
I just loved this story, Phoebe's story broke my heart but I loved that she was strong enough to work hard to be where she is even without support from those who should have been there for her. And how she came to believe that in a way there was something wrong with her and why people left her and didn't love her. While Marco's story was sad it was also humiliating for him, and the reason he never told anyone about his past and his fear to fall in love. Little do they know that you can't choose to love or not, it just happens and they will realize it just when things might end between them. They will both have lessons to learn but the biggest one is that love is worth fighting for.
If you like a good, fun and oh so sexy read, make sure you don't miss Seducing Phoebe by Nicole Flockton.
Book Info:

October 28th 2013 by Crimson Romance
Phoebe Fitzgerald is about to marry a wonderful man—that is until her ex turns up and declares his undying love for her. Confused about her feelings, she calls off her wedding to Marco Petronelli.
Marco knows his offer to wed Phoebe isn't a love match, but he cares for her and believes the compatibility they share will be enough to sustain their marriage. He is forced to admit his emotions go far deeper when Phoebe calls off the wedding, and now he will do almost anything to make her realize they are meant for each other.
Can he convince Phoebe that their relationship is worth saving? Or will secrets from both their pasts be too much to overcome?