In Archangel's Shadows (Guild Hunter #7) by Nalini Singh, Ashwini is proud to call herself a hunter in the Guild and that she played her own part in fighting against the invasion of New York City. On the mend from a serious injury in said war, Ash has been relegated to working on cases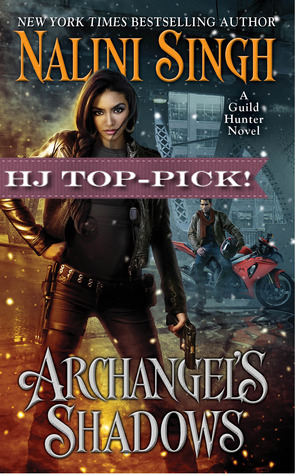 involving more footwork than fighting. She finds herself in the company of Janvier, the stunningly handsome Cajun vampire she's worked with over the past four years. Neither one is talking about the elephant in the room, their attraction, although Janvier is happy to tease and cajole Ash, trying to get a response out of her. She's pretty sure they could have something spectacular, but a family secret is holding her back from exploring a relationship with him. As the murder case they're working gets more complex, Ash is called on to use her special ability, reading a person and sensing the evil they hide by touching their skin, to help solve the crime. But is it worth the torturous thoughts she'll have to live with, or will Janvier be able to ground her and keep her from reaching her breaking point?
"All my life, I've tried to minimize this, what I can do. Very rarely, I sense good things, but too many times, it's cruelty and evil. So I don't look, don't want to look."
"It is nothing to be ashamed of. No one can live life mired in horror."
How did he do that? See her so easily?
Janvier has lived for more than two centuries, always knowing he would find The One some day. He is lucky to have enjoyed his time traveling the world and to now have fallen into archangel Raphael's court. Janvier knew from the moment he met Ashwini in the swamps outside his home in the Bayou that she was it for him. And he's spent the years that followed courting her in his own unique way. The injury that almost ended Ash's life has made Janvier realize that even if he may be immortal, she is not, and every moment is precious. That's why he's made the decision to not only keep her safe at all costs while they solve this case, but to make it clear that he is intent on making Ash his own. For however long she'll have him in her life.
"You were always meant to be mine." His eyes burned, his chest so painful that it felt as if his heart had burst. "Whether it's for a year or a century, it doesn't diminish who and what we are together."
"…I'm yours." Her fingers trembled as she curved them around the side of his neck. "Only ever yours."
Archangel's Shadows is another breathtaking and action packed novel in Nalini Singh's popular Guild Hunter series. In this story we get a closer look at Ashwini, a hunter with the ability to sense evil in humans and immortals, and Janvier, the Cajun vampire who will do whatever it takes to win her love.
I honestly don't know how author Nalini Singh manages to knock me out every time I pick up a new book, whether it is the Guild Hunter series or her Psy-Changeling series, but she does. The writing is always intelligent, yet easy to follow, and with a myriad of emotions portrayed. I love the details used in describing the background, setting up each scene with elegant prose. But I think my favorite part, especially with these two star-crossed characters, was the dialogue. Ash and Janvier were both hunters/trackers who weren't afraid to duke it out verbally while they were chasing each other across the world. They also had an intense connection which Janvier used to his advantage, teasing and flirting mercilessly like the sexy, charming Southern guy he was. He had a way of anchoring Ash when she used her ability to try to solve a case. He brought her out of the darkness she saw in people, which made Janvier the source of contentment she craved for so long.
Like all of the other Guild Hunter novels before it, Archangel's Shadows has a multitude of characters reappearing as a huge part of the plot. To get the full impact of the story, it would probably be helpful to have read those previous books, but it is not required. This picks up where Archangel's Legion left off, after the battle in New York City against Lijuan and her forces. Now the city is rebuilding and the inhabitants healing, physically and mentally. And that plays into the storyline quite a bit, in a way that made me feel like I was there seeing the devastation, hoping for a time of peace for the battle-weary soldiers. I found it was easy to get caught up in the healing part of the story just as much as learning about Janvier and Ash without either part detracting from the other. Of course things were wrapped up in a way that our lovebirds had their happy-for-now ending, plus leaving the door open for future love matches, such as for Naasir, Illium, and Aodhan. Can't wait to see what's next!
I can't say enough wonderful things about this Urban Fantasy. I felt a connection immediately to Ashwini, with her heartbreaking past and current struggles, as well as Janvier's realization of the true love he found with her. I hope you are as captivated by these characters as I am when you get a chance to read this stellar novel.
Book Info:

Publication: October 28th 2014 by Jove | (Guild Hunter #7)
Return to New York Times bestselling author Nalini Singh's sensual and painfully beautiful Guild Hunter world in her new novel of sacrifice, loyalty, and the choices of love that can shatter the heart.
In the wake of a brutal war, the archangel Raphael and his hunter consort, Elena, are dealing with the treacherously shifting tides of archangelic politics and the people of a battered but not broken city. The last thing their city needs is more death, especially a death that bears the eerie signature of an insane enemy archangel who cannot—should not—be walking the streets.
This hunt must be undertaken with stealth and without alerting their people. It must be handled by those who can become shadows themselves…
Ash is a gifted tracker and a woman cursed with the ability to sense the secrets of anyone she touches. But there's one man she knows all too well without a single instant of skin contact: Janvier, the dangerously sexy Cajun vampire who has fascinated and infuriated her for years. Now, as they track down a merciless killer, their cat-and-mouse game of flirtation and provocation has turned into a profound one of the heart. And this time, it is Ash's secret, dark and terrible, that threatens to destroy them both.